FREE Bodybuilding Program
Build Muscle, Lose Fat
And Get Super Strong!
Enter your first name and a valid email address
for free instant access to this awesome workout program.

Albert Beckles Tribute Page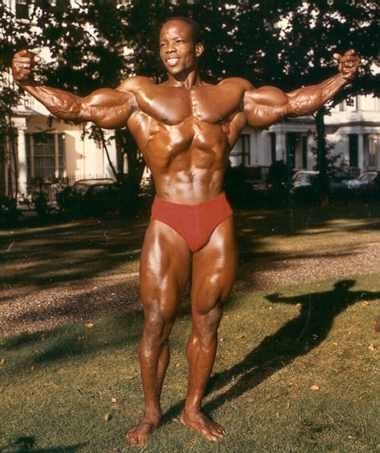 Albert Beckles Picture
Albert Beckles decided to become a bodybuilder at only 10 years old; he was inspired by his older brother who was competing in both weight lifting and bodybuilding.
But he didn't get really serious about bodybuilding until he was 27 years old, and within two years he was already winning bodybuilding contests.
At his best he was five foot seven inches tall and weighed two hundred eighteen pounds.
He competed up to his early sixties, and won the IFBB Niagara Falls Pro Invitational at the age of sixty one, beating out many much younger men for the title.
Contests won: NABBA Mr. Britain 1970 NABBA Mr. Europe 1970 NABBA Mr. Britain 1971 AAU Mr. World 1971 IFBB Mr. Universe 1971 NABBA Mr. Universe 1971 IFBB Mr. Universe 1973 IFBB Grand Prix New England 1981 IFBB Night Of Champions 1982 IFBB World Pro Championships 1982 IFBB Canada Pro Cup 1984 IFBB World Grand Prix 1984 IFBB World Pro Championships 1984 IFBB Night Of Champions 1985 IFBB Niagara Falls Pro Invitational 1991
Albert Beckles Workout
Albert was full time bodybuilder who trained six days a week twice a day all year round.
He used volume training and did 12 to 15 sets for each body part.
Mondays and Thursdays he would do chest and abdominals in the morning and legs at night.
Tuesdays and Fridays he would train back and abdominals in the morning and calves and arms at night.
Wednesdays and Saturdays he would train shoulders in the morning and legs at night.
Note: For information on volume training for natural bodybuilders checkout Muscle Express Training.

Disclaimer: This website is an educational service that provides general health information. The materials are provided "as is" and without warranties of any kind either express or implied. The website's content is not a substitute for direct, personal, professional medical care and diagnosis. None of the suggestions (including exercise, diet, products or services) mentioned should be performed or otherwise used without clearance from your physician or health care provider. The information contained within is not intended to provide specific health advice, or any other advice whatsoever, for any individual or company and should not be relied upon in that regard. We are not medical professionals and nothing on this website should be misconstrued to mean otherwise.