FREE Bodybuilding Program
Build Muscle, Lose Fat
And Get Super Strong!
Enter your first name and a valid email address
for free instant access to this awesome workout program.

25 Anniversary Pumping Iron DVD For Sale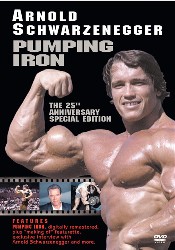 Originally released in 1977, chronicling the early heyday of the sport, "Pumping Iron" is an intimate look into the sport's intensely-scrutinized subculture,and gives viewers a glimpse into a world rarely seen. The movie follows a group of elite competitors, led by perennial "godfather" to the sport, Arnold Schwarzenegger, as they prepare for the 1975 Mr. Universe and Mr. Olympia competitions.
Schwarzenegger, the reigning Mr. Olympia, at the time of its filming, expresses a side of himself that was relatively unseen and delivers a humorous and compassionate persona long-forgotten by those who identify him with his robust, action-star career. The movie delves into the focus, intensity, dedication and physical punishment required to become a bodybuilding champion, while highlighting the whimsical, comedic interaction between competitors behind the rivalries.
The sport's competitive nature is also in full display, as it dives, further, into the battle between Schwarzenegger, Franco Columbo and a young, up-and-coming Lou Ferrigno, among others. The rivalry between Schwarzenegger and Ferrigno is accentuated with an almost "Godzilla vs. King Kong" sensitivity.
"Pumping Iron" helped set in motion the beginning of a new era for the sport. It launched the careers of some of today's biggest and brightest stars in bodybuilding, movies and politics. It also fostered a new legion of fans and bodybuilding worshipers, which have continued to bolster the livelihood of the sport.
"Pumping Iron" was, is and will continue to be the standard by which all other sports documentaries strive to imitate. It is, not only, a rare look behind the curtain of a world now filled with "mass monsters," steroids and other performance enhancing substances, long before the terms and their results crept into mainstream vernacular and limelight.
On this 25th Anniversary DVD, there is no shortage of humor, conflict and bodybuilding substance. However, the human interaction between the participants and their respective drives to succeed more than make this a movie worth watching.
Get your copy today for only $29.95 plus $8.00 S&H
To order by phone call:
1-503-648-1898
10 AM to 6 PM PST
To order by mail, send check/money order payable to:
Paul Becker
PO Box 2471
Hillsboro, OR 97123

Disclaimer: This website is an educational service that provides general health information. The materials are provided "as is" and without warranties of any kind either express or implied. The website's content is not a substitute for direct, personal, professional medical care and diagnosis. None of the suggestions (including exercise, diet, products or services) mentioned should be performed or otherwise used without clearance from your physician or health care provider. The information contained within is not intended to provide specific health advice, or any other advice whatsoever, for any individual or company and should not be relied upon in that regard. We are not medical professionals and nothing on this website should be misconstrued to mean otherwise.