FREE Bodybuilding Program
Build Muscle, Lose Fat
And Get Super Strong!
Enter your first name and a valid email address
for free instant access to this awesome workout program.

Bertil Fox Tribute Page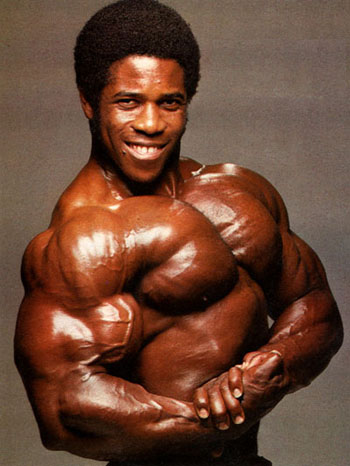 Bertil Fox Picture
Bertil Fox was not born in England and has been quoted as saying that he is British and will not return to the Caribbean island of St. Kitts where he was born on January 5, 1951. However that did not happen because that is where he is currently sitting on death row where he has been sentenced to life in prison for killing his girlfriend and her mother on 30th September 1997.
Bertil started training at a very young age and soon found that he was genetically gifted to be able to gain a lot of muscle fast. He quickly won all the bodybuilding championships in England and after winning the 19977 NABBA Mr. Universe three times in a row it was obvious he was destined to be a professional.
He has placed repeatedly in the Mr. Olympia professional bodybuilding championships and even can boast about beating the great Lee Haney in 1985 at the Swiss Grand Prix. Bertil and his growing fan base all over the world quickly coined the phrase "beef" to describe a man with a large amount of muscle on him.
Competing at around 235 pounds of solid muscle and standing 5'8" tall he was a muscle package that had not been seen before.
Bertil Fox Workout
Bertil got known for his high volume and high intensity workouts that he did. Training twice a day for years was something that Bertilís body responded to very well helped with steroids to speed up repair from those ruthless workouts that he did.
The way that Bertil has trained all his life is rather unusual as not only does he train with a high intensity using heavy weights but also he often uses a very unconventional style of actually doing the exercise. For example when doing upright rowing he would not bring the barbell up to his chest but push it out in front of him.
Bertil would do heavy weights training with 4 to 6 reps most of the time which is probably the reason why he was always able to lifts incredible weights. His strength was amazing but that is why he was able to carry so much muscle. You canít carry that amount of muscle without being very strong indeed.
Note: For information on the best training for bodybuilders checkout Muscle Express Training.

Disclaimer: This website is an educational service that provides general health information. The materials are provided "as is" and without warranties of any kind either express or implied. The website's content is not a substitute for direct, personal, professional medical care and diagnosis. None of the suggestions (including exercise, diet, products or services) mentioned should be performed or otherwise used without clearance from your physician or health care provider. The information contained within is not intended to provide specific health advice, or any other advice whatsoever, for any individual or company and should not be relied upon in that regard. We are not medical professionals and nothing on this website should be misconstrued to mean otherwise.