FREE Bodybuilding Program
Build Muscle, Lose Fat
And Get Super Strong!
Enter your first name and a valid email address
for free instant access to this awesome workout program.

Rob Colacino Workout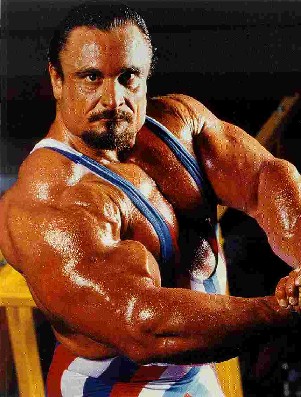 The psycho-burst training system is pure intesity!!
CHEST
1 Set of 1 Rep. Hold for each excercise
On the bench, find out what weight works best for you.
Always use good spotters for this training system!!
This is one rep very very very slow. Take bar to
chest, go up 3/4 of the way then hold. Hold for at least
10 seconds then go on up.


THIGHS
1-10 SQUATS
DO 1 REP REST 5 SECONDS
DO 2 REPS REST 5 SECONDS
DO 3 REPS REST 5 SECONDS
DO 4 REPS REST 5 SECONDS
DO 5 REPS REST 5 SECONDS
DO 6 REPS REST 5 SECONDS
DO 7 REPS REST 5 SECONDS
DO 8 REPS REST 5 SECONDS
DO 9 REPS REST 5 SECONDS
DO 10 REPS REST 5 SECONDS

BACK
Bent over barbell rows / Superset chins
6 Reps each
4 SUPERSETS

BARBELL ROW
Bring bar to chest, go 1/2 way down then hold it.
Then go the rest of the way down very slowly until
fully extended. Then hold at full extension only on
the last two sets.
SUPERSET CHINS
Hold last two reps on last 2 sets
Hold on the negative on top, then go 1/2 way down
on the negative and hold. Then go down 3/4 and hold,
then hold the rep hanging.

(Find your own weight for the barbell row, find your
hold times and ALWAYS GO TO FAILURE ON
YOUR WORKING SETS)
check back in a few weeks for bicep, tricep,
and shoulder workouts.

For more information go to Psycho Burst training

Disclaimer: This website is an educational service that provides general health information. The materials are provided "as is" and without warranties of any kind either express or implied. The website's content is not a substitute for direct, personal, professional medical care and diagnosis. None of the suggestions (including exercise, diet, products or services) mentioned should be performed or otherwise used without clearance from your physician or health care provider. The information contained within is not intended to provide specific health advice, or any other advice whatsoever, for any individual or company and should not be relied upon in that regard. We are not medical professionals and nothing on this website should be misconstrued to mean otherwise.