FREE Bodybuilding Program
Build Muscle, Lose Fat
And Get Super Strong!
Enter your first name and a valid email address
for free instant access to this awesome workout program.

Brian Buchanan Tribute Page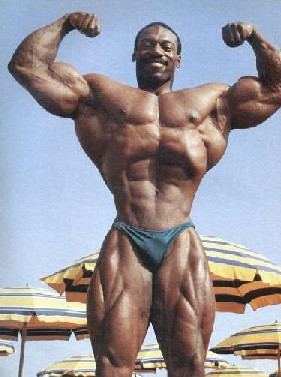 Brian Buchanan Picture
Brian was born in Australia on June 17 1962 and he decided to start training because he thought that it would get him fitter and stronger for the work that he did which was construction but he soon became addicted and went on to become one of the best V tapering bodybuilders of all time.
Brian competes at around 210 pounds and has got his training down to a fine art, which he says he concentrates on always using heavy weights. He certainly breaks away from the normal routine by "cheating" a lot more than the average bodybuilder and using momentum to lift the heavy weights that he trains with.
Brian Buchanan Workout
Brian says that he trains instinctively and when he walks into the gym the only things he knows is what body-part he is going to train and not the exercises, the sets or the reps that he is going to use. He trains with high volume, he explains that he uses 4 different exercises for each body-part.
The choice of exercises that he uses is determined by the development that he is after. We will be using back as an example of how he would select his training exercises for his back training day. Brian explains that he is looking specifically for width, thickness, and separation, whilst developing the lats along their total length to tie in with the obliques and lower back.
For width Brian would do pull downs behind the neck, for thickness he would use bent over rowing movements, for separation he would do seated pulley rowing, and for the lower lats he would do pull-downs to the front. He explains that his training is a logical approach to overloading the muscle in pursuit of making them grow, and always training with heavy weights.
Brian has a waist of only 27 inches which means that he certainly has the genetic gift of training and putting on muscle very quickly. But if you combine his narrow waist with the heavy weights that he trains with it is no wonder that he quickly became a successful bodybuilder.
Note: For information on volume training for natural bodybuilders checkout Muscle Express Training.

Disclaimer: This website is an educational service that provides general health information. The materials are provided "as is" and without warranties of any kind either express or implied. The website's content is not a substitute for direct, personal, professional medical care and diagnosis. None of the suggestions (including exercise, diet, products or services) mentioned should be performed or otherwise used without clearance from your physician or health care provider. The information contained within is not intended to provide specific health advice, or any other advice whatsoever, for any individual or company and should not be relied upon in that regard. We are not medical professionals and nothing on this website should be misconstrued to mean otherwise.