FREE Bodybuilding Program
Build Muscle, Lose Fat
And Get Super Strong!
Enter your first name and a valid email address
for free instant access to this awesome workout program.

Carrie Fickle Tribute Page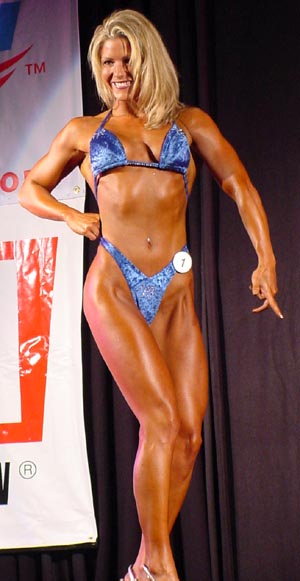 Carrie Fickle Picture
Height: 5' 6"
Weight: (off season): 130 lbs (Competition): 120 lbs
Eyes: Brown
Hair: Blonde
Hobbies: Weight Training (of course!), All sports, Everything Marylyn Monroe!, Karaoke (yes, I am multi talented), and visiting new places.
Occupation: Sports management & fitness, Cheerleading Coach, and Personal Trainer.
Biography
Carrie's enthusiasm for sports & fitness began at a young age. She participated in activities such as; soccer, softball, and cheerleading. She continued cheering for two years at the Ohio State University until she was accidentally dropped just before a game causing fractures to her back. After her recovery, she began working out to recondition her body, when she was introduced to the prospect of fitness competitions. Carrie has been competing ever since. Carrie has been actively competing since 1998 and has enjoyed many accomplishments.
Below are some highlights of Carrie's Fitness Accomplishments.
1998 Placed 1st, Advance Genetic, Mid East States
1998 Placed 1st, Indianapolis Powerhouse Gym Women's Fitness
1998 Placed 2nd, Kentucky Gold Cup, Tall Class
1998 Placed 4th, Ohio Governor's Cup, Tall Class
1999 Placed 2nd NPC Junior USA
1999 Placed 1st, NPC Pittsburgh Bodybuilding & Fitness Championship, Tall Class
1999 Placed 2nd, Mike François World Classic, Tall Class
1999 Placed 1st, The NPC Ultimate Bodybuilding and Fitness Showdown, Tall Class
1999 Placed 8th, Nationals, Tall Class
2000 Placed 2nd, Jan Tana Classic (Amateur), Tall Class
2000 Placed 6th, NPC USA'S, Tall Class
2000 Placed 6th, NPC Nationals, Tall Class
2001 Placed 3rd, First Figure NPC National, Tall Class, @ Team Universe (NYC)

Disclaimer: This website is an educational service that provides general health information. The materials are provided "as is" and without warranties of any kind either express or implied. The website's content is not a substitute for direct, personal, professional medical care and diagnosis. None of the suggestions (including exercise, diet, products or services) mentioned should be performed or otherwise used without clearance from your physician or health care provider. The information contained within is not intended to provide specific health advice, or any other advice whatsoever, for any individual or company and should not be relied upon in that regard. We are not medical professionals and nothing on this website should be misconstrued to mean otherwise.