FREE Bodybuilding Program
Build Muscle, Lose Fat
And Get Super Strong!
Enter your first name and a valid email address
for free instant access to this awesome workout program.

Chris Cormier Tribute Page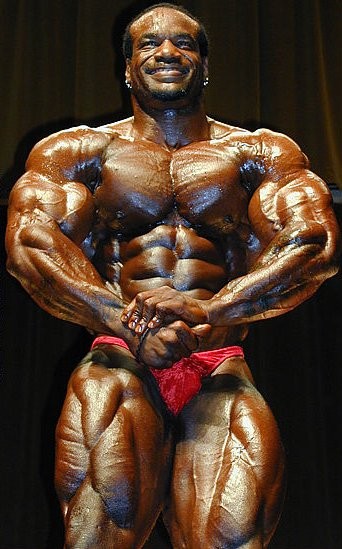 Chris Cormier Picture
Chris Cormier is a world class act and without a doubt one of the ten best professional bodybuilders in the world. He first competed in 1994 in the Mr. Olympia where he placed 6th, which for a first time entry says, a lot about his ability as a professional bodybuilder.
Chris Cormier was born in Palm Springs, California on August 19, 1967 and started training at a very young age when he realized his potential to hold a lot of muscle. He trained hard and continued to get good results whenever he stood on stage.
Chris stands 5'9" and has an off-season weight of 285 lbs and competes at around 250 pounds but life has not been easy for Chris as he was diagnosed with an infected spine in 2006, which apparently started with an injury that he got in the weight room.
Chris has often been called the "The Real Deal" and there is little wonder at this nickname as he has 11 superb wins during his 14-year career with the IFBB Pro League. This makes a certain candidate for future Hall of Fame honors, which is something that still needs to be awarded.
Chris is currently living in Londonderry in Northern Ireland where he is undergoing extensive physiotherapy and treatment for his spine and we may not see him on stage again. Chris made a good name for himself as an IFBB professional bodybuilder placing in the top ten of the Mr. Olympia ten times.
Chris Cormier Workout
Chris works out in a very specific way and he uses the basics as well as muscle isolation techniques. Chris has always insisted on devoting one workout a week to fix a weakness that he feels he might have in his physique. Chris insists that the key is to make it as specific as possible and to always focus on a small muscle or body-part.
A good example is working the upper chest or rear delts but he says there are often problems in a good physique that are over-looked by the average gym rat. Like he explains there are many guys that have an imbalance when looking at the quads and hamstrings because they train hams after doing heavy squats and leg presses.
Chris would train his hams in a separate workout so that he can put more energy into them. Chris explains that the hams are not easy to get size on them because they won't grow from heavy weight and/or sloppy form. They're an endurance muscle, which means the higher reps are the only way to create hams that will hang from the side be able to show deep cuts from behind.
Note: For information on the best workouts for bodybuilding checkout Muscle Express Training.

Disclaimer: This website is an educational service that provides general health information. The materials are provided "as is" and without warranties of any kind either express or implied. The website's content is not a substitute for direct, personal, professional medical care and diagnosis. None of the suggestions (including exercise, diet, products or services) mentioned should be performed or otherwise used without clearance from your physician or health care provider. The information contained within is not intended to provide specific health advice, or any other advice whatsoever, for any individual or company and should not be relied upon in that regard. We are not medical professionals and nothing on this website should be misconstrued to mean otherwise.