FREE Bodybuilding Program
Build Muscle, Lose Fat
And Get Super Strong!
Enter your first name and a valid email address
for free instant access to this awesome workout program.

Christine Lydon Tribute Page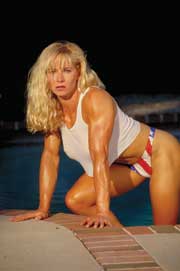 Christine Lydon Picture
Biography
Dr Christine Lydon is no ordinary lady as she has already made a huge impact in the health and fitness industry. Not only does she look strong, fit and healthy she but is young, intelligent and beautiful. Christine first got her medical degree from Yale University in 1994 and her love and dedication to helping people live longer.
When Christine was at University she conducted some very extensive research in biomechanics as well as sports medicine generally. She reached the point of becoming one of the most published medical students in the United States and still today is probably the most widely published writer on health.
This has put her in a position where she writes for a living now because she reaches more people that way. However she is also a personal fitness trainer which she does for the super models and movie stars, including movie directors like Quentin Tarantino.
She now hosts the nationally syndicated workout show Infinite Power, and makes frequent guest appearances on Jeff Everson's Planet Muscle. You will find her published in articles in top health magazines and 4 different sport/fitness periodicals like Men's Fitness, Oxygen Magazine, Body International, and Martial Arts Illustrated.
The result of her extensive research that she did at Yale was something that has developed into a very unique and innovative diet and exercise regimen specifically designed to burn fat and alter one's body chemistry. Following this regime will result in rapid, dramatic results which will be seen and felt within the first week.
It is the development of this system which has proven itself to work so well that is the main motivation for Christine being so passionate about it because she has done years of research in perfecting it. With the current significant influence that she now has on the thinking in the health industry she is surely set for stardom.

Disclaimer: This website is an educational service that provides general health information. The materials are provided "as is" and without warranties of any kind either express or implied. The website's content is not a substitute for direct, personal, professional medical care and diagnosis. None of the suggestions (including exercise, diet, products or services) mentioned should be performed or otherwise used without clearance from your physician or health care provider. The information contained within is not intended to provide specific health advice, or any other advice whatsoever, for any individual or company and should not be relied upon in that regard. We are not medical professionals and nothing on this website should be misconstrued to mean otherwise.