FREE Bodybuilding Program
Build Muscle, Lose Fat
And Get Super Strong!
Enter your first name and a valid email address
for free instant access to this awesome workout program.

Chuck Sipes Tribute Page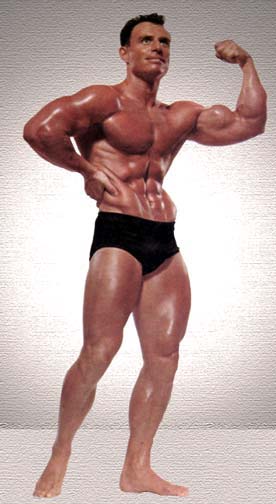 Chuck Sipes was a top bodybuilder in the 1960's who also performed as a strongman proving that he was as in fact as strong as he looked. He could bench 500 pounds, squat 600 pounds, bend steel bars, etc. all while maintaining a lean and proportioned muscular physique.
Stats
Born: 8/22/32
Died: 2/24/93
Height: 5'9-1/2"
Weight: 220 lbs.
Bodybuilding titles
1959 IFBB Mr. America
1960 IFBB Mr. Universe
1967 NABBA World Championships
1968 IFBB Mr. World
Chuck Sipes Workout
ECHOES FROM THE POWER STORM
THAT WAS…CHUCK SIPES!
"Bodybuilding's Original Iron Knight speaks…in this rare hardcore series of unpublished direct training communiqués"
By Dennis B. Weis
"The Yukon Hercules"
"Chuck Sipes Lives Again"
Through the 20th Century-21st Century millennial time barrier comes the incredible human strength and bodybuilding fire power wisdom of one of the 20th Century's greatest Bodybuilding legends. He's gone now (August 22, 1932-February 24, 1993)…but lives on here teaching the ideas and ideals of his very important training life existence.
Here for the first time are the unpublished IFBB Mr. America-Mr. Universe-Mr. World Chuck Sipes maximum training potential direct communiqués…to Dennis B. Weis.
The purpose of this e-book is to give you a personal glimpse and glance at the exact methods, lessons, and philosophies I learned and came to espouse from Chuck Sipes ('59 IFBB Mr. America, '61 Mr. Universe , '66 Mr. Olympia 4th place and '68 Mr. World) from the periodic telephone and correspondence communiqués over a span of 15 years. Unfortunately I don't have any audio tape recordings of my phone consultations with Chuck but being an ecstatic user of his intensive training methods for producing steroid like gains I did save most the written correspondence and have chosen to include in this e-book 35 of the VERY BEST direct training communiqués that he personalized for my particular wants and needs for becoming a contest entering and winning amateur BODYBUILDER and POWERLIFTER.
The 35 thoughtfully selected training communiqués revealed in this e-book were crafted from Chuck's quasi-core (instinctive) strength & physique contest preparation system. The system Chuck used for inducing strength included heavy strict power movements (exercises such as the Barbell Bench Press, Squat and Conventional Dead lift) combined with the "cheating principle, "supports" and "quarter-movements." Chuck's approach for physique contest preparation was a hypothesis of lighter pumping movements for shape and muscularity. The strength and physique contest preparation systems are certainly two different training venues but as you will soon see Chuck had an explicitly calculated way in which he combined them for the ultimate in size, shape, muscularity and strength.
Get ready for some very intriguing muscle structural integrity specialization workouts for the delts, arms, chest and calves plus some exclusive pure cosmetic bodybuilding and true grit power lifting programs. Additionally Chuck always went a step further by including a compilation of the little know or forgotten "incognito" training tips and techniques. I call them "TNT's" – They are ethereal (refined) and intense and pack an explosive wallop in the muscle gain theory. Some of these "incognito" training tips and techniques include and are not limited to:
---ALTERNATES
---PAUSE/NO-PAUSE SYSTEM ---SECRET ONE- DUMBBELL WRIST CURL
---TONNAGE SYSTEM ---CALIFORNIA SISSY SQUAT
---HEAVY/LIGHT SYSTEM ---LOOPED STRAP CHINS
---10 COUNT CALF FLEX ---SECRETS OF RUNNING A GYM
---1 TO 10 TO 1 TECHNIQUE ---14-GUIDING TRAINING MAXIMS
---4-21-16- 4 CONCEPT ---EXCERPTS FROM CHUCKS WORKOUT JOURNAL
---3-WAY DUMBBELL CURL ---INNOVATIVE 1 & 2 REP SYSTEM
---NEGATIVE RESISTANCE REPS ---FEATS OF STRENGTH REVEALED!
---AND MORE!
I invite you now to order this 89 page e-book of personalized communiqués and tap into the hidden 'intense vibes' of one of the greatest Bodybuilding Power Heroes whoever lived…Chuck Sipes!
This is a PDF Book, also known as a digital book, and there is no shipping charge because you download it instantly after you order! You then have the option of printing it out on your computer printer.
Chuck Sipes eBook Only $25.00

After you press the submit transaction button on the order screen, wait for the approval screen to come up and then click where is says "click here to continue" this will take you directly to the download site. It only takes a few minutes and then you'll be reading the book!

You will need the Adobe Acrobat viewer to view the PDF book.
Click the icon above to download your FREE Adobe Acrobat viewer.


Disclaimer: This website is an educational service that provides general health information. The materials are provided "as is" and without warranties of any kind either express or implied. The website's content is not a substitute for direct, personal, professional medical care and diagnosis. None of the suggestions (including exercise, diet, products or services) mentioned should be performed or otherwise used without clearance from your physician or health care provider. The information contained within is not intended to provide specific health advice, or any other advice whatsoever, for any individual or company and should not be relied upon in that regard. We are not medical professionals and nothing on this website should be misconstrued to mean otherwise.