FREE Bodybuilding Program
Build Muscle, Lose Fat
And Get Super Strong!
Enter your first name and a valid email address
for free instant access to this awesome workout program.

Dave Palumbo Tribute Page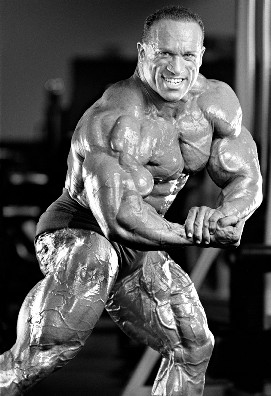 Dave Palumbo Picture
Dave Palumbo is a super heavyweight and he competed and came in 8th place at the super heavyweight division at the NPC championships in 1998, 1999 and 2000 always coming in a little heavier than he did the previous time. He is retired now but is still very involved in the bodybuilding and fitness industry.
He was born David Christopher Palumbo on February 17, 1968 in Manhattan, U.S. He stands 5'9 tall and has a competition weight of around 265 lbs. when he used to compete, which he no longer does. Dave Palumbo's athletic beginning is extremely unusual for a bodybuilder as he started as a long distance runner, which he did throughout his youth and in college. But at the age of 22 Dave began to lift weights.
This changed everything and he was competing successfully within his first 6 months of training. At his first competition which was the 1990 NPC Natural in New York City he weighed only 168 lb. where he took 6th place in the middleweight class.
In only 5 years he won the 1995 NPC Junior USA Championships and turned professional in the IFBB. From 1995 to 2004, Palumbo attempted to turn pro on 16 different occasions at qualifying events but unfortunately never placed higher than runner-up position at the NPC Nationals and NPC USA Championships.
Today Palumbo is the innovator who started the very popular website RxMuscle.com which continues to gain a lot of respect in the bodybuilding community. Dave is also the owner as well as the president of Species Nutrition. Species Nutrition offers protein, fiber, fat loss, sleep-aid, and joint relief amongst its product lines.
Dave Palumbo Workout
Dave's workouts are very specific and he still believes in doing reps between 8 and 10 going up to 15 reps when doing calves and forearms. He still trains on a regular basis using the same routine that got him the muscle that got him good results. WORKOUT:
DAY 1 Chest and Calves
DAY 2 Back
DAY 3 Off
DAY 4 Arms and Forearms
DAY 5 Shoulders and Calves
DAY 6 Legs
DAY 7 Off
Note: For information on the best workouts for bodybuilding checkout Muscle Express Training.

Disclaimer: This website is an educational service that provides general health information. The materials are provided "as is" and without warranties of any kind either express or implied. The website's content is not a substitute for direct, personal, professional medical care and diagnosis. None of the suggestions (including exercise, diet, products or services) mentioned should be performed or otherwise used without clearance from your physician or health care provider. The information contained within is not intended to provide specific health advice, or any other advice whatsoever, for any individual or company and should not be relied upon in that regard. We are not medical professionals and nothing on this website should be misconstrued to mean otherwise.