FREE Bodybuilding Program
Build Muscle, Lose Fat
And Get Super Strong!
Enter your first name and a valid email address
for free instant access to this awesome workout program.

David Henry Tribute Page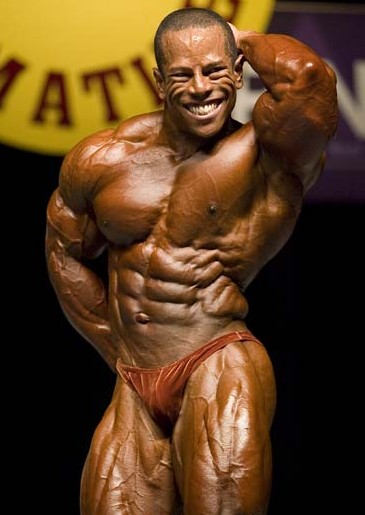 David Henry Picture
David Henry was born on February 24, 1975 in Denver, Colorado and has certainly made his mark on Bodybuilding. David is the complete professional when it comes to his career as a bodybuilder, despite the fact that he is actually a working man holding a position as sergeant in the army. Henry carries a lot of muscle on him with perfect proportion and his first Mr. Olympia win in the newly formed 202 division shows that.
He is known to all as the Giant Killer and still has an on-going competition between Kevin English. Kevin beat him into second place at the 2010 Mr. O which is something that David did to Kevin in 2008 when he beat him into winning his first Mr.Olympia.
There is no doubt we will see more from this man who has the genetics of a Greek God and the discipline and the tenacity to do the best that he can. He has taken a break in the past of over 18 months but he will come back. He said in 2008 that his objective is to achieve 6 world championship wins.
David Henry Workout
His approach to the diet and training that he does from day to day is extremely well calculated, planned and executed. His attitude of winning by using his very intense training workouts that he does is something that will continue to motivate his fans. Using weights that a power-lifter would use he puts everything into every workout.
He carries an enormous amount of muscle on his body because he is strong. Most of the weights that this man lifts in the 'Blast' phase of his routine the average professional bodybuilders cannot use. It is called the DC or Dog Crap method an involves doing a set with 12 or 15 reps in total but selecting a weight that he can only do a maximum of 8 reps with.
The system has three 'loops' where your first loop is 7 to 8 reps and then a rest with 15 breaths and then do 4 or 5 reps. This is then followed by a rest of 15 breaths and then the last loop is 1 or 2 reps or failure. The point is that this type of training is taking the high intensity of training with heavy weights to the next level and it gets results fast.
Note: For information on the best training for bodybuilders checkout Muscle Express Training.

Disclaimer: This website is an educational service that provides general health information. The materials are provided "as is" and without warranties of any kind either express or implied. The website's content is not a substitute for direct, personal, professional medical care and diagnosis. None of the suggestions (including exercise, diet, products or services) mentioned should be performed or otherwise used without clearance from your physician or health care provider. The information contained within is not intended to provide specific health advice, or any other advice whatsoever, for any individual or company and should not be relied upon in that regard. We are not medical professionals and nothing on this website should be misconstrued to mean otherwise.