FREE Bodybuilding Program
Build Muscle, Lose Fat
And Get Super Strong!
Enter your first name and a valid email address
for free instant access to this awesome workout program.

Deshay Ebert Tribute Page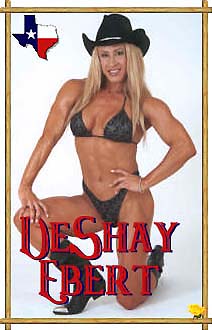 Deshay Ebert Picture
NPC Texas Chairman
NPC Zone Chairman for Texas & Oklahoma
IFBB Judge
President Turbo Custom Components
Writer for South Texas Fitness & Health
1983 Mid-America Champion
1983 West Texas Classic Champion
DeShay was the only woman physique chairman in the USA and one of the few woman promoters in the country. In 1999, she was also appointed to be a judge for the IFBB Professional ranks. In addition to her physique duties, DeShay owned her own shop called Turbo Custom Components which dealt with smaller turbo chargers for trucks, diesel engines, etc. She had written for South Texas Fitness and Health magazine for many years and had also submitted articles to the magazine Muscle Elegance. Finally, DeShay was also a certified personal trainer with ISSA.

Disclaimer: This website is an educational service that provides general health information. The materials are provided "as is" and without warranties of any kind either express or implied. The website's content is not a substitute for direct, personal, professional medical care and diagnosis. None of the suggestions (including exercise, diet, products or services) mentioned should be performed or otherwise used without clearance from your physician or health care provider. The information contained within is not intended to provide specific health advice, or any other advice whatsoever, for any individual or company and should not be relied upon in that regard. We are not medical professionals and nothing on this website should be misconstrued to mean otherwise.