FREE Bodybuilding Program
Build Muscle, Lose Fat
And Get Super Strong!
Enter your first name and a valid email address
for free instant access to this awesome workout program.

Dexter Jackson Tribute Page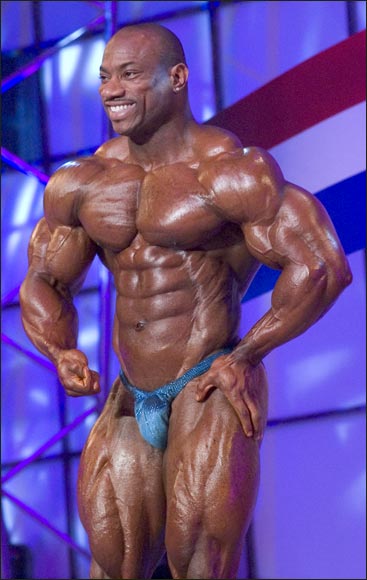 Dexter Jackson Picture
Dexter "The Blade" Jackson was born on November 25, 1969 with a genetic gift of being able to gain muscle with lots of hard work and intense training. To date Dexter is rated as the most decorated bodybuilder of all time. He started competing in the lightweight as an amateur and won his first competition easily.
After competing for a few years in the NPC lineup he then earned his pro card in 1998 and has since left a trail of destruction behind him as he continues to get better and better. At the 2007 Mr. Olympia he came third which is something that turned into a huge controversy as his fans thought he should have placed higher.
But Dexter is a fighter and came back in 2008 to defeat the two time Mr. O winner Jay Cutler to win his first Mr. Olympia title which was well deserved and earned the hard way through blood sweat and tears. The same year he went on to win the Arnold Classic, Australian Pro Grand Prix VIII, New Zealand Grand Prix and the Russian Grand Prix.
His fans insist that the next year he was robbed as he again lost his first prize as he came in third place in the 2009 Mr. Olympia. Dexter shares an honor with a great bodybuilder Chris Dickerson as they are now the only two bodybuilders who have ever won both the Mr. O and the master Olympia after which Dexter went on to also win the Arnold Classic in 2013.
At only 5'6" Dexter is able to pack on an enormous amount of muscle keeping his bodyweight around 230 pounds in the off-season and competing at around 215 pounds and just adds more quality muscle to that frame each year, despite his age. He is a living example that you are never too old to pick up muscle.
The reason why Dexter is considered by the bodybuilding community to be the most decorated bodybuilder of all times is because of his multiple wins in the most difficult shows to get a win and that is called the "Triple Crown". These three are the Arnold Classic, Mr. Olympia, and Masters Olympia victories.
Dexter Jackson Workout
The only reason that Dexter is able to hold the amount of muscle that he does is because of his incredibly high intensity workout routine. This is no ordinary man who does 30 minutes of serious cardio two times a day 6 days a week when he is preparing for a competition.
But his workouts are just as intense doing supersets and tri-sets at a rate that would make any bodybuilders head spin. His pre-contest training is similar to what is listed below. You will see for yourself exactly how this man gets to being such a decorated professional bodybuilder and that is from some damn hard work that he has put in.
Monday: Quads
Leg Extensions: 4 sets of 20-30 reps
Squats: 4 sets of 8-10 reps
Hack Squats: 4 sets of 8-10 reps
Leg Extensions: 3 sets of 10 reps
Tuesday: Chest & Calves
Barbell Bench Press: 4 sets of 8-10 reps
Incline Dumbbell Press: 4 sets of 8-10 reps
Dumbbell Flyes: 4 sets of 8-10 reps
Standing Calf Raises: 4 sets of 8-10 reps
Seated Calf Raises: 4 sets of 10-15 reps
Wednesday: Back
Lat Pulldowns: 4 sets of 8-10 reps
T-Bar Rows: 4 sets of 8-10 reps
Barbell Deadlifts: 4 sets of 8-10 reps
Seated Cable Rows: 3 sets of 8-10 reps
Thursday: Shoulders & Hams
Dumbbell Press: 4 sets of 8-10 reps
Incline Lying Side Laterals: 3 sets of 8-10 reps
Rear Delt Raises: 4 sets of 8-10 reps
Seated Leg Curls: 5 sets of 10 reps
Superset:
Lying Leg Curls: 4 sets of 10 reps
Stiff-Legged Deadlift: 4 sets of 10 reps
Friday: Biceps & Triceps
EZ-Bar Curls: 4 sets of 8-10 reps
Hammer Curls: 4 sets of 8-10 reps
Preacher Curls: 4 sets of 8-10 reps
Tri-Set:
Tricep Pushdowns: 3 sets of 8-10 reps
Dips: 3 sets of 8-10 reps
Rope Pushdowns: 3 sets of 8-10 reps
Ab & Cardio Routine:
Crunches: 3 sets of 50 reps
Knee-ups: 3 sets of 40 reps
Cable Crunches: 3 sets of 30 reps
Note: For information on the best training for bodybuilders checkout Muscle Express Training.

Disclaimer: This website is an educational service that provides general health information. The materials are provided "as is" and without warranties of any kind either express or implied. The website's content is not a substitute for direct, personal, professional medical care and diagnosis. None of the suggestions (including exercise, diet, products or services) mentioned should be performed or otherwise used without clearance from your physician or health care provider. The information contained within is not intended to provide specific health advice, or any other advice whatsoever, for any individual or company and should not be relied upon in that regard. We are not medical professionals and nothing on this website should be misconstrued to mean otherwise.