FREE Bodybuilding Program
Build Muscle, Lose Fat
And Get Super Strong!
Enter your first name and a valid email address
for free instant access to this awesome workout program.

Dina dela Llana Tribute Page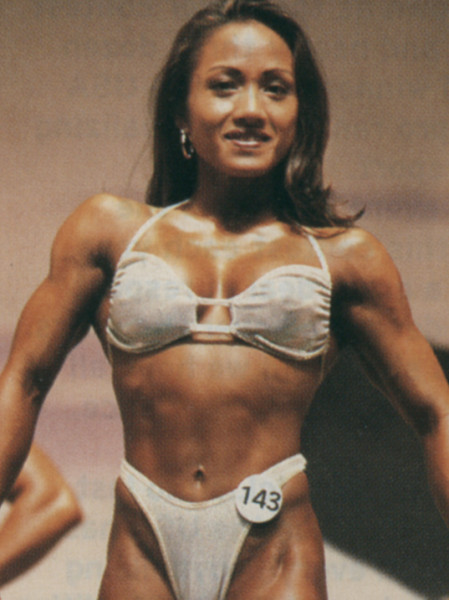 Dina dela Llana Picture
Biography
Dina Dela Llana is a beautiful lady that was born with perfect symmetry and balance which she took a step farther when she started training with weights. She was very successful in fitness competitions and managed to qualify for her Pro-card when she competed in two fitness well respected fitness shows in both the '96 and '97 Emerald Cups.
Although she no longer competes she still left with a good record from the few competitions that she did enter. In the same year she also entered the 1997 IFBB Mid-West Pro Fitness where she placed 7th. 1997 was her best year as she continued to compete but never reached those levels again.
Two years after competing and placing 12th in the Emerald Cup in 1997 she entered the 1999 IFBB Womens World Pro competition where she placed 14th. She had continue to try and get to the top of her sport as the year before that she placed 13th at the 1998 IFBB Jan Tana Pro.
Unfortunately it seems that Dina has disappeared from competitive fitness and bodybuilding and there is no record of the type of training that she did to establish those fine lines that we saw on her during her best years between 1997 and 1999. It is believed that she works as a personal trainer on the east coast of the USA but she has also done some very erotic nude photography which together with her perfect skin and that beautiful body there is little wonder why she was selected as a Playboy playmate.
Dina is Asian but not by birth as she was born in the USA and went to school somewhere on the East Coast. She was in Playboy for a month and has not been seen since then so we can assume that she is still working somewhere as a personal trainer.

Disclaimer: This website is an educational service that provides general health information. The materials are provided "as is" and without warranties of any kind either express or implied. The website's content is not a substitute for direct, personal, professional medical care and diagnosis. None of the suggestions (including exercise, diet, products or services) mentioned should be performed or otherwise used without clearance from your physician or health care provider. The information contained within is not intended to provide specific health advice, or any other advice whatsoever, for any individual or company and should not be relied upon in that regard. We are not medical professionals and nothing on this website should be misconstrued to mean otherwise.