FREE Bodybuilding Program
Build Muscle, Lose Fat
And Get Super Strong!
Enter your first name and a valid email address
for free instant access to this awesome workout program.

Francis Benfatto Tribute Page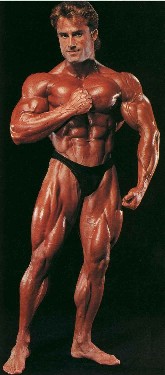 Francis Benfatto Picture
Francis Benfatto was born in Casablanca Morocco on 7 June of 1958 he was born to be a sportsman and was a French teenager boxing champion in 1973 and achieved a French Teenager Bench-press record in 1974. It was inevitable that he would get hooked by bodybuilding.
Francis got a nickname from his fans calling him 'Mr. Proportion' as there are basically two types of bodybuilding fans out there. There are those who like as much muscle mass as possible and there are those who believe that aesthetics like proportion and symmetry are everything in bodybuilding.
Although Francis always managed to get a placing when he entered Mr. Olympia he was never up there in the top three because of that reason. The same can be said for many great bodybuilders from Bob Paris to Steve Davis. If you want to win Mr. Olympia you need a LOT of muscle mass.
Francis did win the Mr. Universe in 1985 and came second in the Mr. World two years later. But his disillusion with the judges looking for mass over aesthetics is what made him retire. But at the age of 48 he decided to make a comeback and get in the best shape of his life.
He explained that weighing in at 200 pounds on his 5'6" frame made him the most conditioned athlete on the stage. He said after the show that he may still compete in a few Masters Championships in the future but he is happy to be running his gym on the French Riviera and selling his supplements.
Francis Benfatto Workout
Francis uses his own supplements, which he developed and has marketed them very effectively together with a very specific nutrition plan. He decided to use the A.R.T System to gain muscle. It stands for Auto-Regulation-Training and is basically the use of training with tri-sets only and it has shown to always get good results.
Here is an example of his shoulder workout:
Dumbbell Lateral Raise
Dumbbell press
Dumbbell Rear Lateral Raise
All exercises are done with no rest in-between, then repeated 3 to 4 more times.
Francis uses the A.R.T system because he is able to use it in order to constantly adapt and make changes depending on what his specific objective is. He came on stage showing a lot more muscle and probably did look the best he has ever looked.
Note: For information on the best training for bodybuilders checkout Muscle Express Training.

Disclaimer: This website is an educational service that provides general health information. The materials are provided "as is" and without warranties of any kind either express or implied. The website's content is not a substitute for direct, personal, professional medical care and diagnosis. None of the suggestions (including exercise, diet, products or services) mentioned should be performed or otherwise used without clearance from your physician or health care provider. The information contained within is not intended to provide specific health advice, or any other advice whatsoever, for any individual or company and should not be relied upon in that regard. We are not medical professionals and nothing on this website should be misconstrued to mean otherwise.