FREE Bodybuilding Program
Build Muscle, Lose Fat
And Get Super Strong!
Enter your first name and a valid email address
for free instant access to this awesome workout program.

Gary Strydom Tribute Page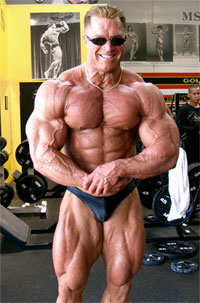 Gary Strydom Picture
Gary Strydom was born in Durban South Africa in January 1960. After winning the NPC USA Championships decided to join the WBF (World Bodybuilding Federation) because of a very lucrative offer his life quickly changed for the better. He got a few very impressive wins competing under Vince McMahon's now defunct World Bodybuilding Federation. But then things changed and Gary decided to quit competing after the collapse of the WBF. His main objective was to promote his clothing company CrazeeWear and Strydom Wear.
But Gary was not finished as his rock solid disciple, focused and hard-working attitude has always kept him pumping iron and always in very good shape. He decided to completely re-invent himself and compete again at the age of 48 which is something that can only be done in the sport of bodybuilding.
Standing next to men who were half his age Gary took 7th place at the 2006 Colorado Pro Championships. This demonstrates his determination to succeed no matter what and he insists that bodybuilding is his life and he will always be in good condition.
Gary Strydom Workout
The training that Gary does is completely instinctive as he explains that the only way he can get to all the muscle fibers in a body-part is by resting as little as possible between sets and using speed and repetitions and always making sure that you are fully recuperated before you start to train.
He says that he does not train with extremely heavy weights because just one slip could finish your bodybuilding career. He says that in his 20 as a professional bodybuilder he has seen many bodybuilders spoil a great career attempting to lift an unreasonably heavy weight.
He says that our bodies are best able to recover from heavy workouts not by sleeping on the couch or watching TV but with activity. He says that research has shown that the body can recuperate best with activity and not just laying around on the couch.
He says that the basic compound movements are what he would start all his workouts with doing dumbbell press for his upper body with deadlift and squats for back and legs. He says that the small muscle groups still get a great workout but he will always do a bit more on individual body-parts like arms and calves.
Note: For information on the best training for bodybuilders checkout Muscle Express Training.

Disclaimer: This website is an educational service that provides general health information. The materials are provided "as is" and without warranties of any kind either express or implied. The website's content is not a substitute for direct, personal, professional medical care and diagnosis. None of the suggestions (including exercise, diet, products or services) mentioned should be performed or otherwise used without clearance from your physician or health care provider. The information contained within is not intended to provide specific health advice, or any other advice whatsoever, for any individual or company and should not be relied upon in that regard. We are not medical professionals and nothing on this website should be misconstrued to mean otherwise.