FREE Bodybuilding Program
Build Muscle, Lose Fat
And Get Super Strong!
Enter your first name and a valid email address
for free instant access to this awesome workout program.

Gunter Schlierkamp Tribute Page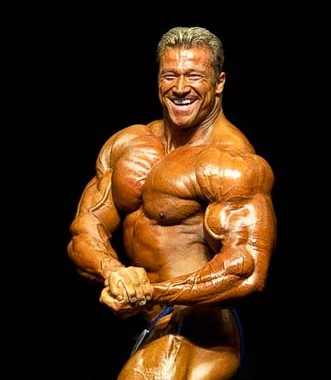 Gunter Schlierkamp Picture
Günter Schlierkamp was born in Olfen Germany in February 2, 1970 and is currently living in Hermosa Beach, California, USA with his wife Kim Lyons whom he married in 2007. Kim is a personal trainer and is involved with the health business which has always been part of Gunter's life.
At 6'1" tall Gunter comes into a competition at over 280 pounds and ripped to shreds. There is no doubt that he is a very good bodybuilder and because he is always ready with a quick and easy smile he has become a fan favorite for many years now.
Gunter has been competing regularly over the last ten years and after winning the German championships and being selected as the overall winner in 1990 he continued to compete as an amateur and won the 1993 World Amateur Championships winning the IFBB, Heavy-Weight division.
He has a list of successful amateur competitions like winning the 1992 German Championships in the Heavy-Weight class and also won the 1992 European Amateur Championships. He also won the IFBB before he decided to become professional. His last successful placing at the Mr. Olympia got him 5th place.
Gunter Schlierkamp Workout
Gunter is currently trained by the legendary Charles Glass who he himself has a lot of competition experience. Although Charles is not his regular training partner he has made a big difference to the way that Gunter is now seen on stage.
Although his legs are probably the most impressive part of his body doing squats he is doing is his least favorite exercise, which is not something you would think when you look at him competing on stage. Below is what he would do when training his legs before a big competition will do 4 or 5 sets of leg extensions just to warm up may sound extreme but the supersets that he does make his leg workout look like torture. Gunter does the pre-exhaust on his legs to strengthen the knee joint which he says really works.
He then moves onto leg press which he supersets with hack squats. Doing 4 to 5 sets and moving directly into to hack squats with very little if no rest at all makes for a tough workout. Gunter would then finish his leg workout with lying leg curls and as usual always adding more weight as he goes through the workout.
Note: For information on volume training for natural bodybuilders checkout Muscle Express Training.

Disclaimer: This website is an educational service that provides general health information. The materials are provided "as is" and without warranties of any kind either express or implied. The website's content is not a substitute for direct, personal, professional medical care and diagnosis. None of the suggestions (including exercise, diet, products or services) mentioned should be performed or otherwise used without clearance from your physician or health care provider. The information contained within is not intended to provide specific health advice, or any other advice whatsoever, for any individual or company and should not be relied upon in that regard. We are not medical professionals and nothing on this website should be misconstrued to mean otherwise.