FREE Bodybuilding Program
Build Muscle, Lose Fat
And Get Super Strong!
Enter your first name and a valid email address
for free instant access to this awesome workout program.

Gustavo Badell Tribute Page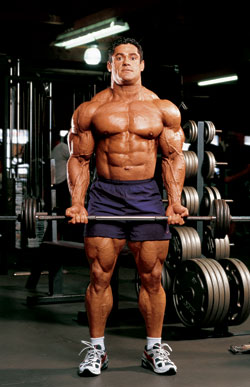 Gustavo Badell Picture
Gustavo Badell was born on November 3 1972 in Venezuela but his family moved to Puerto Rico when he was five years old. He started training at 15 and put on muscle very quickly and won every competition he entered and decided to become a professional bodybuilder only 6 years after he started training.
He earned the nickname the Freakin' 'Rican and become a fast growing IFBB professional bodybuilder. He entered his first Mr. Olympia in 2002 where he came 24th but did not give up and has continued to improve. He currently lives in Las Vegas with his wife and four children.
Gustavo is 5'8" and competes at around 245 pounds coming on stage each time with more muscle and a lower body-fat. Gustavo explains how he has developed a successful training formula that continues to work for him and he does this all year round even when competing.
Gustavo Badell Workout
In Gustavo's own words he thrives on high volume workouts and when you see the amount of different exercises that he would do for each body-part it means a tough workout. Gustavo explains that he ONLY trains with weights that he can do 12 to 15 reps and he selects a weight that is the heaviest he can go without breaking his form.
He explains that he only trains one body-part each day and that he trains six days a week 12 months a year. He is also a personal trainer so he has seen what works and what does not work over the years. He also explains that his training is done with as little rest between his sets as possible.
He strongly believes in doing cardio on a regular basis and will do 30 minutes of cardio every evening as part of his daily workout program. He trains twice every day just like most professional bodybuilders.
Note: For information on volume training for natural bodybuilders checkout Muscle Express Training.

Disclaimer: This website is an educational service that provides general health information. The materials are provided "as is" and without warranties of any kind either express or implied. The website's content is not a substitute for direct, personal, professional medical care and diagnosis. None of the suggestions (including exercise, diet, products or services) mentioned should be performed or otherwise used without clearance from your physician or health care provider. The information contained within is not intended to provide specific health advice, or any other advice whatsoever, for any individual or company and should not be relied upon in that regard. We are not medical professionals and nothing on this website should be misconstrued to mean otherwise.