FREE Bodybuilding Program
Build Muscle, Lose Fat
And Get Super Strong!
Enter your first name and a valid email address
for free instant access to this awesome workout program.

Jean Pierre Fux Tribute Page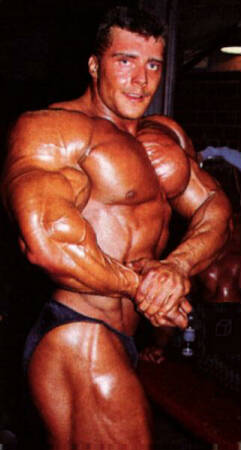 Jean Pierre Fux Picture
Jean-Pierre Fux (pronounced fooks) was born in Switzerland in 1968 and has been a competitive pro bodybuilder for many years. He was forced to retire however because what the Internet called 'The most terrifying squat fail ever to be seen!'
It happened when he was trying to squat with the heaviest weight that he could and his knees just gave out which is any athlete's worst nightmare. There are pictures of this enormous collapse on a website with both before and after surgery photos included.
Jean-Pierre or 'JP' as his fans call him is 5' 11" and in the off-season he is around 300 lbs. of solid muscle and he competes at around 260 lbs.
Jean Pierre Fux Workout
His training regime that he uses is something that would obviously change, as he got closer to a competition.
He explains that he likes to stick to 12,10,8,6,6 for each exercise that he does. He would do dumbbell incline press and squats as well as deadlift ending off the last set with lifting the heaviest weight that he can press for 6 reps. This type of training is very common amongst bodybuilders.
A good example of the kind of training that JP puts himself through on a regular basis is to look at his mean deltoid workout. He starts off with light weights doing a warm-up and super-setting upright rows and military press. He then starts to train and you cannot believe the weights that he uses and that is just for his first set of 12 reps.
He then adds more weight after each set going slowly down in reps until he adds the finishing touch by doing the last 6 reps with the maximum weight that he can handle. It is understandable that JP is now a bit weary about forcing himself since his terrible collapse doing squats.
Note: For information on the best training for bodybuilders checkout Muscle Express Training.

Disclaimer: This website is an educational service that provides general health information. The materials are provided "as is" and without warranties of any kind either express or implied. The website's content is not a substitute for direct, personal, professional medical care and diagnosis. None of the suggestions (including exercise, diet, products or services) mentioned should be performed or otherwise used without clearance from your physician or health care provider. The information contained within is not intended to provide specific health advice, or any other advice whatsoever, for any individual or company and should not be relied upon in that regard. We are not medical professionals and nothing on this website should be misconstrued to mean otherwise.