FREE Bodybuilding Program
Build Muscle, Lose Fat
And Get Super Strong!
Enter your first name and a valid email address
for free instant access to this awesome workout program.

Jeff King Tribute Page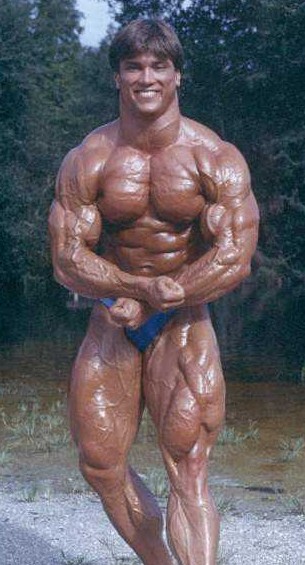 Jeff King Picture
Started straining at 13 years old weighing only 100 lbs and won the Mr. Universe at 22 years old weighing 230 pounds.
Jeff King was huge and striated with legs almost equal to Tom Platz, and with a chest, back, shoulders and arms that matched.
Bodybuilding titles:
AAU Mr. New Jersey 1979
AAU Teen Mr. America 1980
AAU Teen Mr. USA 1980
AAU Collegiate Mr. America 1982
NPC Eastern USA Championships 1983
AAU Mr. America 1983
NABBA Mr. Universe 1983
NABBA World Championships 1984
Jeff King Training Routine
Jeff trained heavy but used only used weights he could do a strict as possible, striving to make each and every rep count.
He did between 7 to 12 sets for each muscle group, with a rep range between 4 to 10.
He rested only 1 to 2 minutes between sets.
He would cycle his poundages and reps, for example doing sets of 4 to 6 reps for one cycle, and then doing sets of 8 to 10 reps for the next cycle. He felt the lighter workouts helped him to recover from the heavier ones and thus avoid over training.
His workout split looked like this:
Day 1 = Chest, Back, Neck and Abs
Day 2 = Thighs, Hamstrings and Calves
Day 3 = Shoulders, Biceps, Triceps, Neck and Abs
Day = Rest day
Note: For information on volume training for natural bodybuilders checkout Muscle Express Training.

Disclaimer: This website is an educational service that provides general health information. The materials are provided "as is" and without warranties of any kind either express or implied. The website's content is not a substitute for direct, personal, professional medical care and diagnosis. None of the suggestions (including exercise, diet, products or services) mentioned should be performed or otherwise used without clearance from your physician or health care provider. The information contained within is not intended to provide specific health advice, or any other advice whatsoever, for any individual or company and should not be relied upon in that regard. We are not medical professionals and nothing on this website should be misconstrued to mean otherwise.