FREE Bodybuilding Program
Build Muscle, Lose Fat
And Get Super Strong!
Enter your first name and a valid email address
for free instant access to this awesome workout program.

Jeff Willet Tribute Page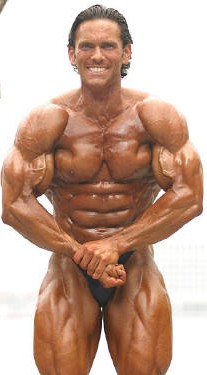 Jeff Willet Picture
Jeff Willet is one of the few completely natural bodybuilders that has an NPC title. Jeff started training at 16 years old when his big brother introduced him to training at his gym with him. In Jeff's own words he fell in love with the feeling of the pump and also was motivated by the possibilities of growing muscle.
Jeff is only 5'7" with excellent genetics and he started growing soon after he was training on a regular basis. When Jeff competes it is usually at around 200 pounds so you can imagine the muscle mass that he has. For a man that says that he has never taken steroids and never will that is quite impressive.
Jeff now owns his own gym in Adrian, Michigan called the Powerhouse Gym which opened on December 5, 2004. He has a family and is completely dedicated to promoting health and bodybuilding. He strongly believes that success in life comes from surrounding yourself with positive people.
Jeff spends a lot of time motivating the people that train at his gym and he has developed a motto by which he lives by that is plastered on his gym wall. It says in big bold red letters when you walk into his gym 'Believe Beyond Boundaries!'. It is this kind of attitude that he contributes to his success.
Jeff Willet Workout
When Jeff trains he trains hard and he strongly believes in the Max-OT training method which is the Maximum Overload Training principles that he learned from Paul Delia, who is the owner of AST Sports Science. The basic foundation of the Max-OT method is to train using a low volume with a very high intensity approach in order to stimulate muscle growth.
Jeff explains that he uses basic free weight movements with a heavy weight and very low reps. In his way of training he will do 4 to 6 reps and he says that if he can do 6 reps easily then the weight is too light. Jeff said that part of the Max-OT training is to never train a body-part more than once a week.
His nutrition beliefs however are pretty standard for most pro bodybuilders and he explains that in order to maximize your gains a post-workout protein shake or snack is absolutely essential. The rest is to do with regular protein snacks throughout the day and he increases his protein intake when he increases his intensity in his workouts.
Note: For information on the best training for bodybuilders checkout Muscle Express Training.

Disclaimer: This website is an educational service that provides general health information. The materials are provided "as is" and without warranties of any kind either express or implied. The website's content is not a substitute for direct, personal, professional medical care and diagnosis. None of the suggestions (including exercise, diet, products or services) mentioned should be performed or otherwise used without clearance from your physician or health care provider. The information contained within is not intended to provide specific health advice, or any other advice whatsoever, for any individual or company and should not be relied upon in that regard. We are not medical professionals and nothing on this website should be misconstrued to mean otherwise.