FREE Bodybuilding Program
Build Muscle, Lose Fat
And Get Super Strong!
Enter your first name and a valid email address
for free instant access to this awesome workout program.

Jennifer Stimac Tribute Page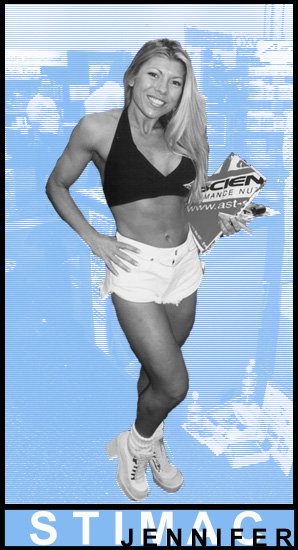 Jennifer Stimac Picture
Biography
Jennifer Stimac was born on July 5, 1970, in Chicago, Illinois where she got into gymnastics and fitness in a big way and before she left school was already competing in fitness competitions. Jennifer is no stranger to competition and has a string of accolades behind her to back up exactly how good she really is.
Her first competition after she graduated from Brooks College which is in Long Beach California she decided to start entering competitions and won her first show easily. It was in 1995 at the Ultimate Fitness Hawaii Challenge where she got 1st as well as the overall winner.
She then started entering more and more often and came in second place in the same year at the ESPN2 Fitness Contest. She also came in second place at the Miss Hawaiian Tropic competition and won the overall NPC in 1997 held in Colorado.
Between 1995 and 1997 were her best years at competing as she then started placing farther back and only came in 16th place at the 1998 NPC USA but we have to admit that when a national competition is held the competition is extremely tough.
Jennifer believes strongly in training with weights as she says that the only way that you are going to get strong enough to compete in a fitness competition is by training with weights. She is currently doing personal training and motivation.

Disclaimer: This website is an educational service that provides general health information. The materials are provided "as is" and without warranties of any kind either express or implied. The website's content is not a substitute for direct, personal, professional medical care and diagnosis. None of the suggestions (including exercise, diet, products or services) mentioned should be performed or otherwise used without clearance from your physician or health care provider. The information contained within is not intended to provide specific health advice, or any other advice whatsoever, for any individual or company and should not be relied upon in that regard. We are not medical professionals and nothing on this website should be misconstrued to mean otherwise.