FREE Bodybuilding Program
Build Muscle, Lose Fat
And Get Super Strong!
Enter your first name and a valid email address
for free instant access to this awesome workout program.

Joe Bucci Tribute Page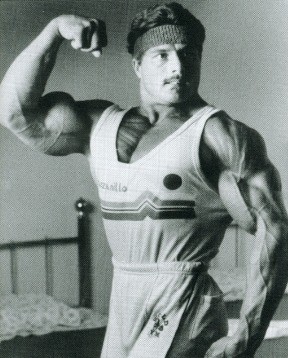 Joe Bucci Picture
Joe Bucci was a professional bodybuilder and actor, who won Mr. World and also appeared on TV in "V.I.P." with Pamela Anderson and "Hunter" starring Fred Dryer.
Joe is a man of integrity and has spoken out about the side effect of using anabolic steroids for bodybuilding.
Joe was known for his good looks and his amazing bicep peak.
Joe Bucci Workout
Joe's advanced bicep workout is based on high volume training and he used the following exercises:
Barbell cheat curl for five sets of then to fifteen reps
Incline dumbbell curl for four sets of eight reps
One arm pulley curl for four sets of eight to ten reps
Reverse curl for four sets of ten reps
Hammer curl for four sets of ten reps
Note: For information on volume training for natural bodybuilders checkout Muscle Express Training.

Disclaimer: This website is an educational service that provides general health information. The materials are provided "as is" and without warranties of any kind either express or implied. The website's content is not a substitute for direct, personal, professional medical care and diagnosis. None of the suggestions (including exercise, diet, products or services) mentioned should be performed or otherwise used without clearance from your physician or health care provider. The information contained within is not intended to provide specific health advice, or any other advice whatsoever, for any individual or company and should not be relied upon in that regard. We are not medical professionals and nothing on this website should be misconstrued to mean otherwise.