FREE Bodybuilding Program
Build Muscle, Lose Fat
And Get Super Strong!
Enter your first name and a valid email address
for free instant access to this awesome workout program.

John Grimek Tribute Page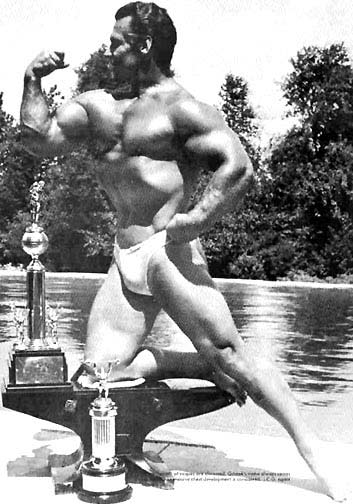 John Grimek Picture
John Carroll Grimek was born in Perth Amboy, New Jersey on June 17, 1910 and he died on November 20, 1998. John was the son of Slovak immigrants George and Maria Grimek who were peasants from the village Ústie Oravou in western Slovakia.
Measurements: Neck 18", Arms 18.5" (pumped), Forearm 14.5", Chest 49.9", Waist 31", Hips 40.3", Thighs 27", Calves 17.7", Weight 210
Bodybuilding was certainly not what it is today but until his death John was never defeated but he was not only into bodybuilding as he competed in weight-lifting as well. He represented the United States in weightlifting at the 1936 Olympic Games held in Berlin.
The fact that he was never defeated as a bodybuilder does not imply that he did not have any competition. He was still competing at 38 years old and that is when he defeated the famous Steve Reeves at the NABBA Mr. Universe contest in London. In fact it was Steve Reeves himself who said "John Grimek is the greatest bodybuilder that ever lived." John Grimek has many distinctions in the sport of bodybuilding and one of them is that he is the only bodybuilder to ever win the AAU Mr. America title twice in a row which was in 1940 and 1941.
John retired from competitive bodybuilding and started writing for big national bodybuilding magazines like "Strength & Health" and "Muscular Development". He had a massive influence on the growing bodybuilding world at that time and explained how the average guy can put on muscle training only three times a week.
John Grimek Workout
He published many different training routines but something that he was responsible for starting was the standard training of 3 sets of 10 repetitions. Below you will see a copy of what John first recommended to his readers well over 5 decades ago.
Monday:
Chest- bench presses 3 x 10
Back - chins or pull downs 3x10
Shoulders - military presses 3x10
Biceps - barbell curls 3x10
Squats 3x10
Calves - Standing calf raises 3x10
18 sets total
Wednesday:
Chest- incline bench presses or dips 3 x 10
Back - barbell or dumbbell rows 3x10
Shoulders - shoulder shrugs 3x10
Biceps - 1 armed preacher curls 3x10
Leg biceps - leg curls 3x10
Abs - 1 set of 50 incline sit ups
16 sets total
Friday:
Back - chins or pull downs 3x10
Shoulders - military presses 3x10
Biceps - incline dumbbell curls 3x10
Front squats 3x10
Stiff legged dead lifts 3x10
Calves - Seated calf raises 3x10
18 sets total
Note: For information the best training for natural bodybuilders checkout Muscle Express Training.

Disclaimer: This website is an educational service that provides general health information. The materials are provided "as is" and without warranties of any kind either express or implied. The website's content is not a substitute for direct, personal, professional medical care and diagnosis. None of the suggestions (including exercise, diet, products or services) mentioned should be performed or otherwise used without clearance from your physician or health care provider. The information contained within is not intended to provide specific health advice, or any other advice whatsoever, for any individual or company and should not be relied upon in that regard. We are not medical professionals and nothing on this website should be misconstrued to mean otherwise.