FREE Bodybuilding Program
Build Muscle, Lose Fat
And Get Super Strong!
Enter your first name and a valid email address
for free instant access to this awesome workout program.

Justin Brooks Tribute Page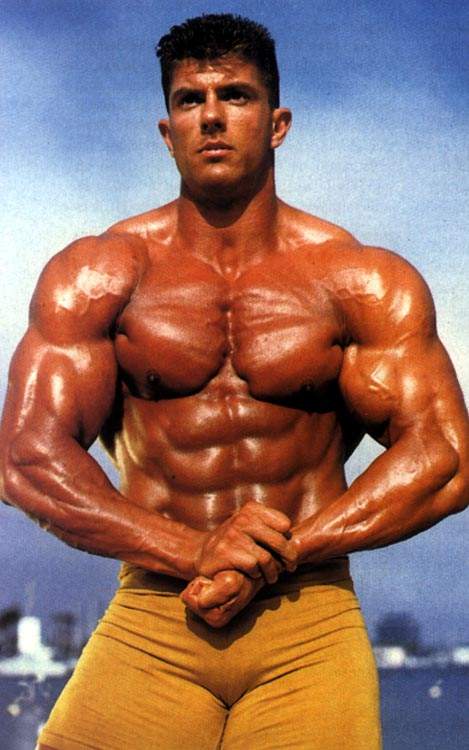 Justin Brooks Picture
Justin Brooks is a bodybuilder that represents the aesthetic part bodybuilding where balance comes before mass. Justin has now retired as a bodybuilder even though he is always ready to complete. At 6'2" and 285 his size alone was impressive.
He currently works as a personal trainer in Las Vegas and has two children and a beautiful wife. He trains hard every day and keeps in good shape with a body-fat of 10%. He has not become a national champion because of his dedication but because of the swing toward mass over balance and symmetry in bodybuilding.
The reason why Justin decided to retire he blames squarely on the turn of bodybuilding. When the now unbeatable Lee Haney first beat the well balanced Bob Paris or when Arnold beat Frank Zane was how it all started he said. His argument is that the judges changed the direction of bodybuilding completely and it went back to the cellar where it came from. But Justin did compete for over five years and his highlight was the 5th position at the NPC held in Chicago in 2002. He says that it was a fight he could not win and he believes bodybuilding is a complete lifestyle and not just about how much muscle you can hold. He says that it is the holistic approach to bodybuilding with the health and longevity it promotes is what bodybuilding is all about.
Justin won his division which is super-heavyweight which is a lot of muscle so one needs to appreciate the work and effort that it takes to put on a keep this amount of muscle without taking steroids. Justin who is a model that has travelled all over the world says it is physical, emotional and spiritual inclusion that makes a good bodybuilder.
Justin Brooks Workout
Justin believes in high volume training and splits his body up the following way:
On Mondays he will work shoulders, hamstrings and calves.
On Tuesdays he works his back, triceps and abdominals.
Wednesdays OFF
On Thursdays he trains his chest and biceps.
On Fridays he hits thighs, traps and calves.
Saturdays and Sundays OFF
He will do three to five exercises for each muscle with anywhere from six to fifteen reps each set.
Note: For information on volume training for natural bodybuilders checkout Muscle Express Training.

Disclaimer: This website is an educational service that provides general health information. The materials are provided "as is" and without warranties of any kind either express or implied. The website's content is not a substitute for direct, personal, professional medical care and diagnosis. None of the suggestions (including exercise, diet, products or services) mentioned should be performed or otherwise used without clearance from your physician or health care provider. The information contained within is not intended to provide specific health advice, or any other advice whatsoever, for any individual or company and should not be relied upon in that regard. We are not medical professionals and nothing on this website should be misconstrued to mean otherwise.