FREE Bodybuilding Program
Build Muscle, Lose Fat
And Get Super Strong!
Enter your first name and a valid email address
for free instant access to this awesome workout program.

Kevin Levrone Tribute Page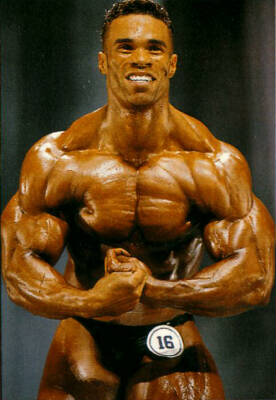 Kevin Levrone Picture
Kevin Levrone who has the well-earned nickname from his fans and he is now known as the Maryland Muscle Machine. He was born July 16, 1968 in Baltimore, Maryland, U.S.A. Kevin is the only bodybuilder to have ever won the Grand Prix of bodybuilding a record eight times from 1993-1995, 1997, 2001.
Kevin stands at 5 ft 9 in or 1.75 m and usually competes at around 240 lb or 109 kg. Kevin is without a doubt one of the top professional bodybuilders on the circuit and has been for quite a few years. He always manages to get a placing in the top five when he competes in the Mr. Olympia title.
Kevin has an Italian father and an Africa mother and is the youngest of six children. Kevin started training early and has the required tenacity and disciple that it takes to be a professional bodybuilder. He has won over 23 titles as a bodybuilder and still just keeps getting better and better.
Kevin Levrone Workout
Kevinís training is something that he has written about extensively on his blog and to put it in his own words ďItís not the weight that you use but how you use itĒ. Kevin always does a three day split routine training his chest and shoulders on the same day which has been criticized by his fellow competitors.
Below you will see what his split routine looks like, excluding the warm-up he would select the sets and reps that he does depending on how close he is to a competition. Kevin explains that the only way that you get results is by always pushing the boundaries of your strength and your ability.
Day 1 Chest, shoulders, triceps
Day 2 Quads
Day 3 Back, biceps, hamstrings
Day 4 Rest
Kevin explains that combining all your pushing movements together when you train is able to pre-exhaust the triceps and biceps before you get to them. However some of his fellow competitors believe that this would be limiting the ability to train with heavier weights.
Note: For information on volume training for natural bodybuilders checkout Muscle Express Training.

Disclaimer: This website is an educational service that provides general health information. The materials are provided "as is" and without warranties of any kind either express or implied. The website's content is not a substitute for direct, personal, professional medical care and diagnosis. None of the suggestions (including exercise, diet, products or services) mentioned should be performed or otherwise used without clearance from your physician or health care provider. The information contained within is not intended to provide specific health advice, or any other advice whatsoever, for any individual or company and should not be relied upon in that regard. We are not medical professionals and nothing on this website should be misconstrued to mean otherwise.