FREE Bodybuilding Program
Build Muscle, Lose Fat
And Get Super Strong!
Enter your first name and a valid email address
for free instant access to this awesome workout program.

Larry Scott Tribute Page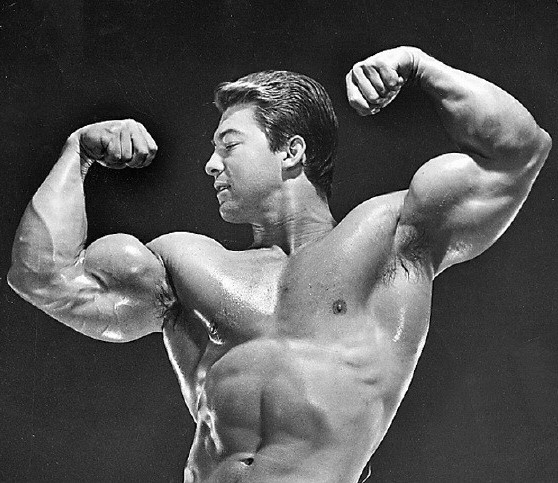 Larry Scott The First Mr. Olympia
Larry Scott was born 1938 in Pocatello, ID. He was a real skinny kid when he first took up bodybuilding but he went on to become one of the best bodybuilders of all time and winning Joe Weider's very first Mr. Olympia contest in 1965 earning him the nickname of "The Legend". He currently lives in Utah and still loves bodybuilding.
Stats:
Height 5 ft 8 inches
Weight 205 pounds
Bodybuilding titles:
1959 Mr. Idaho
1960 AAU Mr. California
1961 AAU Mr. Pacific Coast
1962 IFBB Mr. America
1964 IFBB Mr. Universe
1965 IFBB Mr. Olympia
1966 IFBB Mr. Olympia
Larry Scott Workout
Larry Scott's bicep workout uses tri-sets (three exercises in a row with no rest inbetween) on the preacher bench. Larry Scott's training also involves burns (partial reps performed at the end of each set).
Dumbbell preacher curl, loose form 3-4 sets X 6 reps + 4-5 burns
Straight Bar preacher curl, strict form 3-4 sets X 6 reps + 4-5 burns
EZ bar reverse curl, loose form 3-4 sets X 6 reps + 4-5 burns

Disclaimer: This website is an educational service that provides general health information. The materials are provided "as is" and without warranties of any kind either express or implied. The website's content is not a substitute for direct, personal, professional medical care and diagnosis. None of the suggestions (including exercise, diet, products or services) mentioned should be performed or otherwise used without clearance from your physician or health care provider. The information contained within is not intended to provide specific health advice, or any other advice whatsoever, for any individual or company and should not be relied upon in that regard. We are not medical professionals and nothing on this website should be misconstrued to mean otherwise.