FREE Bodybuilding Program
Build Muscle, Lose Fat
And Get Super Strong!
Enter your first name and a valid email address
for free instant access to this awesome workout program.

Laurie Donnelly Tribute Page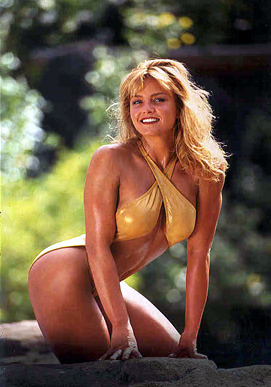 Laurie Donnelly Picture
Laurie's career in fitness began in 1986 when she started teaching aerobic classes in Orange County, CA while still in high school. Her passion to individually train others came to fruition when she opened Integrated Fitness in 1991. Laurie has trained hundreds of clients as a fitness and nutritional coach. She consults athletes, peak performers, fitness enthusiasts, and general health goal seekers. She encourages her clients to set goals and stay focused on the path to success.
In early 1992 Laurie set her own goal - to compete in the Fitness America. After having won the qualifying contest in Hawaii, she went on to compete in and win the Fitness America National Championships.
Shortly thereafter she was contacted by ESPN and was soon working on the set of the popular fitness show Bodyshaping, which she co-hosted from 1993 to 1995. Laurie is now hosting the new concept fitness program, "Cyberfit", shown on ESPN2.
Laurie has written articles and modeled for numerous national and international Fitness magazines. She has been featured on the covers of Muscle Media, Muscular Development, Iromnan, Muscle and Fitness, Musclemag, and has a feature section in "Oxygen" - the new fitness magazine for woman.
Laurie's extensive research and studies in exercise physiology and nutrition has lead her to travel throughout the world giving seminars and motivational speeches on the subjects at corporate functions, fitness events, health clubs, trade shows, and gyms. Her degree in Organizational Communication and Broadcasting has been a perfect partnership with the hosting and commentating work she does at various fitness events.
Laurie has also taken Corporate America by storm, consulting numerous companies on creating, implementing, and staffing corporate training facilities and wellness centers.
Laurie's goal is to continually motivate others to strive for excellence while educating them about the importance of exercise and nutrition .

Disclaimer: This website is an educational service that provides general health information. The materials are provided "as is" and without warranties of any kind either express or implied. The website's content is not a substitute for direct, personal, professional medical care and diagnosis. None of the suggestions (including exercise, diet, products or services) mentioned should be performed or otherwise used without clearance from your physician or health care provider. The information contained within is not intended to provide specific health advice, or any other advice whatsoever, for any individual or company and should not be relied upon in that regard. We are not medical professionals and nothing on this website should be misconstrued to mean otherwise.