FREE Bodybuilding Program
Build Muscle, Lose Fat
And Get Super Strong!
Enter your first name and a valid email address
for free instant access to this awesome workout program.

Lee Labrada Tribute Page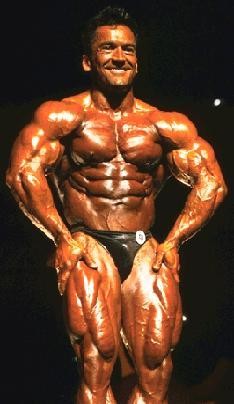 Lee Labrada Picture
Lee Labrada is a bodybuilder that competed professionally for well over ten years and made an enormous contribution to the sport of bodybuilding. He was born on March 8, 1960 in Havana Cuba and has holds 22 professional bodybuilding titles he is the only bodybuilder that consistently placed in the top four in the Mr. Olympia for 7 years running. At only 5ft 6in and competing ripped to shreds at 184 lbs. he was always able to show a well-balanced and well-proportioned body with a lot of depth and more often than not was able to show the judges some hitherto unseen striations.
Lee decided that the only way to show the cuts that he was able in professional competition was because of his innate knowledge of how to use nutrition. The result was the formation of his company called Labrada Nutrition which he started in 1995.
Lee was inducted into the IFBB Pro-Bodybuilding Hall of Fame in 2004 and is considered to be one of the greatest bodybuilders even though he has never won a Mr. Olympia title. Lebrada Nutrition went on to be listed as a Fortune 500 company within the first 6 years of business.
Lee Labrada Workout
All the weight training sessions that he does in this program are started with 30 minutes of cardio as a warm-up. Lee insists that correct form or the way that you perform a movement will ensure that you get the best and safest workout possible.
He stresses that each repetition should take you 1 - 2 seconds to lift and 2 to 3 seconds to return to the starting position and always resist the temptation to use momentum or to swing the weight. He explains that you should never rely solely on gravity to bring a weight down and always keep it as controlled as possible.
He explains that the rest between exercises should be however long it takes you to catch your breath. He says that the rest time that you take between training the different body-parts should only be about 3 or 5 minutes maximum.
Here is a sample of his back and biceps workout.
Bent Over Two-Dumbbell Row
2 sets of 10-12 reps, 1 set to failure 60-90 sec rest
Underhand Pull-ups
2 sets of 10-12 reps, 1 set to failure 60-90 sec rest
Barbell Curl Barbell Curl
Standing Barbell Curl
2 sets of 10-12 reps, 1 set to failure 60-90 sec rest
Dumbbell Alternate Bicep Curl
2 sets of 10-12 reps, 1 set to failure
Note: Lee Labrada's workout routine is based on High Intensity Training for more info see The Colorado Experiment Workout

Disclaimer: This website is an educational service that provides general health information. The materials are provided "as is" and without warranties of any kind either express or implied. The website's content is not a substitute for direct, personal, professional medical care and diagnosis. None of the suggestions (including exercise, diet, products or services) mentioned should be performed or otherwise used without clearance from your physician or health care provider. The information contained within is not intended to provide specific health advice, or any other advice whatsoever, for any individual or company and should not be relied upon in that regard. We are not medical professionals and nothing on this website should be misconstrued to mean otherwise.