FREE Bodybuilding Program
Build Muscle, Lose Fat
And Get Super Strong!
Enter your first name and a valid email address
for free instant access to this awesome workout program.

Libby Streeter Tribute Page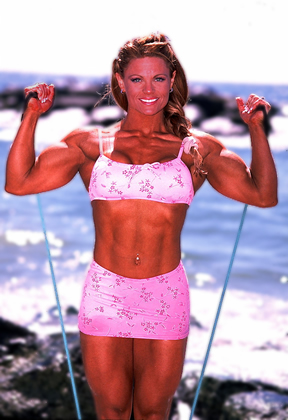 Libby Streeter Picture
Name: Elizabeth Jane Streeter a.k.a. "Libby/Libit"
Birth Date: March 11, 1973
Place of Birth: A small City in Massachusetts
Education: College Degree in Criminal Justice, Human Services and Corrections
Occupations: Personal Trainer (Specializing in training women as well as showing them how to eat for a better lifestyle) Childrens Fitness Instructor
Favorite Hobby: I love to camp! The closer I can get to nature the more content I am!
Favorite Diet Food: Boiled Chicken and Rice with Equal on top. or RiceCakes w/ All Natural Peanut Butter.
Favorite Cheat Food: Friendly's Reeses Pieces Sundae w/ Butter Crunch IceCream.
Favorite Aerobics: Cardio Kickboxing or the Rowing Machine
For me becoming a "Fit" person began when I was born.
As a child my parents couldn't keep me in sight. I was always on the go. That personality trait stayed with me through the years. I have always found ways to participate in some kind of sport. Growing up, we had no money, so I had to enjoy Intramural sports like: Volleyball, Basketball and Field Hockey. During that time I found my calling to be a Field Hockey player. I truly loved playing but I could only go so far with it. I thought playing sports again after highschool would just be a dream, until I "fell" into Fitness.
Fitness started for me in 1997. I was diagnosed with Thoracic Scoliosis. At that time I was told that excercise and weight training would help it from getting any worse. So, that is when I decided to become a "Full timer" at a gym. I had always gone to gyms off and on, I figured it was time to be serious. I started training through the knowledge of a friend. By November of that year I found a show that I thought I would just jump into. I needed to know if I could do it. Well, that was "Hook, Line and Sinker"!! I recieved 2nd at that show which qualified me for the Nationals!! I loved it and wanted more.
My next show wouldn't be until the following November in 1998. It was the NPC Nationals in Georgia. WOW! What a difference from a local level show.. Still not knowing what I was doing, I recieved 10th place. This is where I met my choreographer Cathy Savage. She took me under her care and knowledge and taught me what I needed to know. Together we were able to start what is now my "CAREER". My 3rd show was the NPC team Universe in 1999. There I respectively took 4th place. Now determined, we worked harder and went to the NPC Nationals in Florida that same year. That is where I recieved my PRO status. I won the Tall Class!! Ever since then, I have been so busy with the fitness industry. But not busy enough for me.. My goal in the industry is to become a well respected role model for all types. And of course, to compete in the Fitness Olympia.
I have competed in 7 professional shows and haven't been fortunate enough to earn my Olympia Qualification. In the meantime, I will always be working on helping who I can to achieve thier Fitness goals.

Disclaimer: This website is an educational service that provides general health information. The materials are provided "as is" and without warranties of any kind either express or implied. The website's content is not a substitute for direct, personal, professional medical care and diagnosis. None of the suggestions (including exercise, diet, products or services) mentioned should be performed or otherwise used without clearance from your physician or health care provider. The information contained within is not intended to provide specific health advice, or any other advice whatsoever, for any individual or company and should not be relied upon in that regard. We are not medical professionals and nothing on this website should be misconstrued to mean otherwise.