FREE Bodybuilding Program
Build Muscle, Lose Fat
And Get Super Strong!
Enter your first name and a valid email address
for free instant access to this awesome workout program.

Lou Ferrigno Tribute Page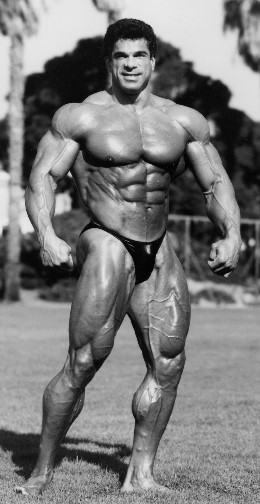 Lou Ferrigno Picture
Lou Ferrigno was born in Brooklyn New York on November 9, 1951. As a baby he lost 75 percent of his from a very bad ear infection, this caused his to be very introverted as a child and he would often just stay in the house and read comic books and dream of being strong and muscular.
At 13 years old he discovered bodybuilding and began training with weight in his basement which he gradually expended into a full gym with benches, weights, leg press, etc. He later joined R & J health studio and learned even more about bodybuilding.
Lou was known as a teenage wonder, and grew to 6'5" tall and 275 pounds by the time he was in his early twenties. Many felt that Lou could beat the great Arnold Schwarzenegger for the Mr. Olympia title.
Low won the following contests:
WBBG Pro Mr. America 1971
IFBB Mr. America 1973
IFBB Mr. Universe 1973
IFBB Mr. International 1974
IFBB Mr. Universe 1974
In 1976 when he was training for the Mr. Olympia contest which everyone felt he would win, he got an offer to play the Incredible Hulk on TV. He took the offer and this started his acting career, which included playing Hercules, Sinbad, and many more action and comedic roles.
Lou Ferrigno Workout
With his idols being Arnold and Sergio, Lou also used the same style of training that they did which is using a high volume of exercises, sets and reps.
For example his chest workout was:
Bench press for five sets of six to ten reps
Incline bench press for five sets of six to ten reps
Decline bench press for five sets of six to ten reps
Dumbbell flyes for five sets of ten to twelve reps
Dumbbell pullovers superset with cable crossovers for three sets of fifteen reps
Note: For information on volume training for natural bodybuilders checkout Muscle Express Training.

Disclaimer: This website is an educational service that provides general health information. The materials are provided "as is" and without warranties of any kind either express or implied. The website's content is not a substitute for direct, personal, professional medical care and diagnosis. None of the suggestions (including exercise, diet, products or services) mentioned should be performed or otherwise used without clearance from your physician or health care provider. The information contained within is not intended to provide specific health advice, or any other advice whatsoever, for any individual or company and should not be relied upon in that regard. We are not medical professionals and nothing on this website should be misconstrued to mean otherwise.