FREE Bodybuilding Program
Build Muscle, Lose Fat
And Get Super Strong!
Enter your first name and a valid email address
for free instant access to this awesome workout program.

Luke Wood Tribute Page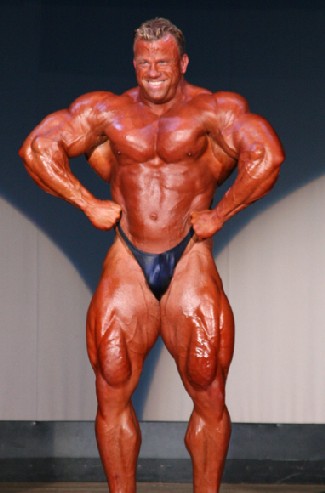 Luke Wood Picture
Biography
Luke Wood was an Australian bodybuilding champion who because an IFBB pro bodybuilder but retired due to kidneys failure, he was given a kidney transplant operation but sadly his body rejected them and he died at only 35 years old.
From Australia moved to Venice, California, U.S.A.
Stats:
Height 5 feet 11 inches weight 260 pounds.
Bodybuilding contests won:
1994 Teenage Australia
1995 Junior East Coast Of Australia
1996 Junior Mr. Australia
1998 Mr Australia
1999 2000 Pro Card Division
Luke Wood Workout
Luke had a heard core training approach; here are some tips he shared:
Weight isn't as important as isolation and flexing the muscle worked, for example when working chest he would only use 2 plates on each side but he would concentrate on his chest and not his shoulders or triceps, he says this helped him make his chest his best body part.
He didn't believe in low rep training, he never did singles or 4 to 5 reps; he trained like a bodybuilder rather than like a powerlifter, he did 12 to 15 reps and even higher reps for legs. He also always used perfect form in all exercises.
Another secret he told was his use of giant sets, doing 4 or more exercises in a row with no rest in between!
Note: For information on the best training for bodybuilders checkout Muscle Express Training.

Disclaimer: This website is an educational service that provides general health information. The materials are provided "as is" and without warranties of any kind either express or implied. The website's content is not a substitute for direct, personal, professional medical care and diagnosis. None of the suggestions (including exercise, diet, products or services) mentioned should be performed or otherwise used without clearance from your physician or health care provider. The information contained within is not intended to provide specific health advice, or any other advice whatsoever, for any individual or company and should not be relied upon in that regard. We are not medical professionals and nothing on this website should be misconstrued to mean otherwise.