FREE Bodybuilding Program
Build Muscle, Lose Fat
And Get Super Strong!
Enter your first name and a valid email address
for free instant access to this awesome workout program.

Melvin Anthony Tribute Page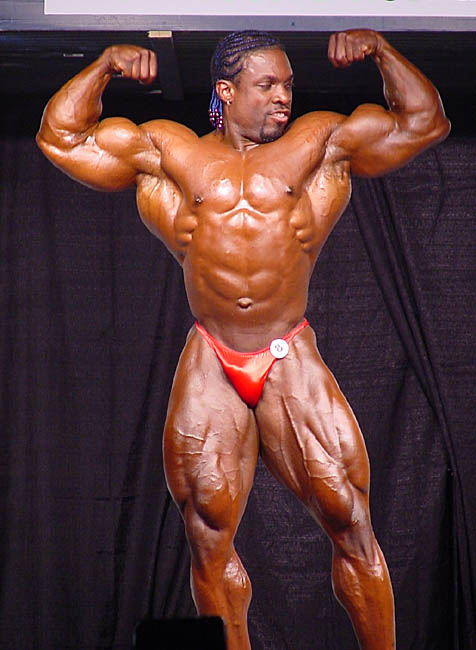 Melvin Anthony Picture
Marvelous Melvin Anthony is a very successful IFBB professional bodybuilder and he had a tough time getting there. Melvin grew up in the lower class neighborhood of Sacramento and San Bernardino, which is in California. He first started training when he was a teenager and by the time he was 18 was solid enough physique to win a football scholarship at San Bernardino Valley College.
Melvin was born in Sacramento on Nov 13, 1973 but he has not only turned his life around and become a very successful IFBB professional bodybuilder but is also now married and lives in West Hills, California. It may sound strange but Melvin is a manicurist that does nails for the ladies, which is VERY strange for a professional bodybuilder.
His off-season weight is around 265 lb and he competes at 245 lb. with a 28" waist and 21" arms you can see why he has been successful as a bodybuilder. In his first NPC (National Physique Committee) competition in 1995 he placed 1st in the heavyweight division of the NPC Palm Springs event.
He then got himself registered as an IFBB bodybuilder and came in 2nd place at competition at the Night of Champions, which is now, called The New York Pro. He also placed second when he entered his first Arnold Classic in 2001. His first Mr. Olympia was in 2001, where he placed 11th.
Melvin is now widely recognized as one of the Best posers in the Modern Bodybuilding era. He has often won the "Best posing" award at many competitions and continues to do so. Although he is not considered one of the "mass monsters" by the bodybuilding community he has a very impressive stage presence.
Melvin Anthony Workout
Melvin trains 6 days a week using the heaviest weight that he can with extremely good form, which he says is vitally important. He uses reps of 8 to 10 but always does 15 and even 20 reps during his warm up using the heaviest weight possible.
He uses high volume training, meaning sixteen or more sets for each muscle group, broken down from about four or five different exercises to hit the muscles from all angles.
He uses mostly free weights to build size, but will use some machines when training for a contest.
Note: For more information on volume training for natural bodybuilders checkout Muscle Express Training.

Disclaimer: This website is an educational service that provides general health information. The materials are provided "as is" and without warranties of any kind either express or implied. The website's content is not a substitute for direct, personal, professional medical care and diagnosis. None of the suggestions (including exercise, diet, products or services) mentioned should be performed or otherwise used without clearance from your physician or health care provider. The information contained within is not intended to provide specific health advice, or any other advice whatsoever, for any individual or company and should not be relied upon in that regard. We are not medical professionals and nothing on this website should be misconstrued to mean otherwise.