FREE Bodybuilding Program
Build Muscle, Lose Fat
And Get Super Strong!
Enter your first name and a valid email address
for free instant access to this awesome workout program.

Mike Ashley Tribute Page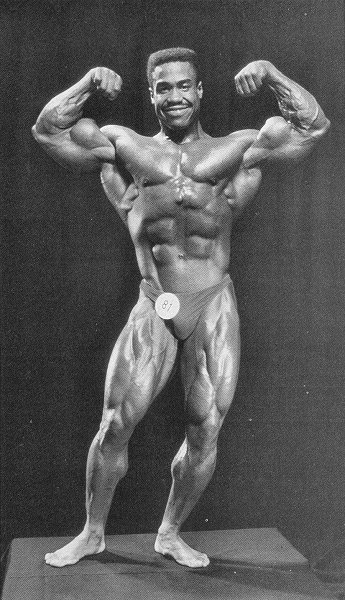 Mike Ashley Picture
Mike Ashley has been a professionally competitive bodybuilder since 1980 and he constantly gets a placing in the top 20 of any show that he enters. Mike has developed an enviable reputation in the bodybuilding community for being completely natural and never taking any hormones or steroids of any kind.
He proved this more than once by winning the National American Body Builders Associationís (NABBA) as well as the Mr. Natural America title in 1982. Mike has retired from pro bodybuilding and writes for a living as well as doing personal training for a select few clients.
When considering that he has always resisted the temptation to take steroids he reached an amazing 198 to 200 pounds at competition weight with a height of only 5í8Ē that is very impressive indeed.
Mike Ashley Workout
Mike explains how he managed to put on so much muscle.
He started off training instinctively in those days and selecting his weakest body-parts to concentrate on. However his training once he started to compete professionally was periodization training. Basically what this means is that your training is planned ahead with a 10 or 12 week program.
Mike says that this was the best option for him because when you train using periodization you very seldom get stuck on a plateau that you cannot break through. Mike explains that the reason he resorted to instinctive training in the first place was to avoid arriving at a plateau in his training.
He would create his own very specific calendar for training where he would concentrate one phase purely on gaining strength. The next phase he would concentrate on improving his aerobic capacity by doing lots of cardio. Then he would do the last phase doing interval training with weights.
Mike says that when you donít take any drugs the only way that you are able to get and keep any muscle on your body is with some very intense workouts. From that phase of his periodization he would then move to some serious bulk training where he would rely on the good old faithful bench-press, squats and deadlift.
The result from years of hard training was that he was eventually working with a 700 pound squat which is something the average bodybuilding competitor only dreams about working with a weight like that. Mike explains that his upper body strength was also huge by comparison to other bodybuilders.
Note: For information on volume training for natural bodybuilders checkout Muscle Express Training.

Disclaimer: This website is an educational service that provides general health information. The materials are provided "as is" and without warranties of any kind either express or implied. The website's content is not a substitute for direct, personal, professional medical care and diagnosis. None of the suggestions (including exercise, diet, products or services) mentioned should be performed or otherwise used without clearance from your physician or health care provider. The information contained within is not intended to provide specific health advice, or any other advice whatsoever, for any individual or company and should not be relied upon in that regard. We are not medical professionals and nothing on this website should be misconstrued to mean otherwise.