FREE Bodybuilding Program
Build Muscle, Lose Fat
And Get Super Strong!
Enter your first name and a valid email address
for free instant access to this awesome workout program.

Mike Francois Tribute Page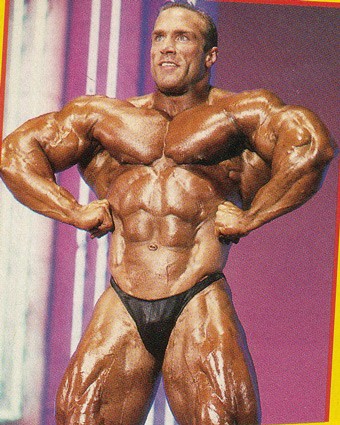 Mike Francois Picture
Michael Francois was born March 4 1965 and currently lives and works from his hometown in Columbus, OH, USA. Mike has made a name for him-self in bodybuilding and fitness and has published many articles in Flex and other magazines that have a very high circulation.
Mike has an off-season weight of around 270 which at 5'9" makes him very big but he loses a lot of fat to compete at around 235 pounds. His professional debut started off extremely well when he not only won the Chicago Pro-Invitational but also the Night of the Champions in 1993.
Mike has a very friendly and welcoming personality which has made him a very successful personal trainer for all levels of fitness and strength. He creates a diet and exercise program for his clients, which is done specifically to cater for the client objective.
Mike Francois Workout
Mike is one of those bodybuilders that believe in training every body-part from as many different angles as possible, which is why he separates his workouts into different groups of exercises. We will be looking briefly at his training that he would do for back to demonstrate how he trains.
Mike explains that the secret to success in bodybuilding is all about the ability to isolate the muscle you are working on. When training back you need to take your biceps out of the equation by focusing and isolating the back muscles only.
He explains that this is only done by squeezing and contracting your back when doing every single rep. Mike believes that there is no place for using momentum when training as a bodybuilder. With all this in mind, here is a great sample mass-building back workout.
Choose one exercise from each group per workout. Vary it as much as possible from workout to work out and always make sure you are warmed up properly before beginning any workout.
Group 1: Deadlifts 4 X 3
Bent Over Rows 4 x 6
Group 2: T-Bar Rows 4 X 8
Cable Rows 4 X 8
1-Arm Dumbbell Rows 4 x 8
Group 3: Pull-downs to Front 4 X 8
Pull-downs to Rear 4 X 10
Chin Ups 4 x 12
Note: For information on volume training for natural bodybuilders checkout Muscle Express Training.

Disclaimer: This website is an educational service that provides general health information. The materials are provided "as is" and without warranties of any kind either express or implied. The website's content is not a substitute for direct, personal, professional medical care and diagnosis. None of the suggestions (including exercise, diet, products or services) mentioned should be performed or otherwise used without clearance from your physician or health care provider. The information contained within is not intended to provide specific health advice, or any other advice whatsoever, for any individual or company and should not be relied upon in that regard. We are not medical professionals and nothing on this website should be misconstrued to mean otherwise.