FREE Bodybuilding Program
Build Muscle, Lose Fat
And Get Super Strong!
Enter your first name and a valid email address
for free instant access to this awesome workout program.

Mike O'Hearn Tribute Page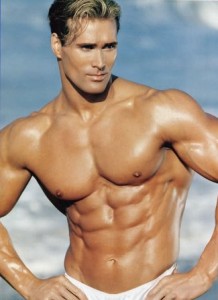 Mike O'Hearn Picture
Mike O'Hearn is no ordinary athlete as he has successfully won the Natural Mr. Natural Universe competition four times. Mike was born on 26 January 1969 in Seattle Washington, USA and current lives in Santa Monica California.
Mike is 6'3" and comes from a large family of nine children and he is the youngest son. Although he first started competing as a bodybuilder at 15 years old he has successfully competed as a power-lifter as well.
He won a state powerlifting competition four times and has been a very successful team captain in the American Gladiators series seen on TV. He is also a decathlon winner in the Strength Strongman Championship.
There are millions of women all over the world who will recognize Mike as the cover seen on every Topaz romance novel sold everywhere. He has been living and writing about his dedication to the natural approach to bodybuilding and has written a book.
His book called Proven Techniques for Drug Free Bodybuilders is available to inspire and teach young bodybuilders and power-lifters how to achieve success in these sports without the use of steroids and growth hormones.
Mike O'Hearn Workout
Mike has a 12 week muscle building routine which he calls the Power Bodybuilding program and it involves training five times a week twice a day. .
He recommends training with weights in the morning and doing cardio and abs in the afternoon with the weekend to rest. His training is very intense and he explains that to gain muscle you need to train heavy with low reps.
He always bench-presses on an incline and insists on doing the basic compound exercises only. His 12 week program ONLY includes basic exercises such as incline press, the squat and the deadlift and he recommends very slow reps done with extreme tension.
Below is what his 12 week muscle gain program is all about which only requires a lot of serious hard work as you can see.
Weeks 1-4, 70%: 5 sets of 4 reps
Weeks 5-8, 80%: 5 sets of 3 reps
Weeks 9-12, 90%: 5 sets of 2 reps
Note: For information on the best training for natural bodybuilders checkout Muscle Express Training.

Disclaimer: This website is an educational service that provides general health information. The materials are provided "as is" and without warranties of any kind either express or implied. The website's content is not a substitute for direct, personal, professional medical care and diagnosis. None of the suggestions (including exercise, diet, products or services) mentioned should be performed or otherwise used without clearance from your physician or health care provider. The information contained within is not intended to provide specific health advice, or any other advice whatsoever, for any individual or company and should not be relied upon in that regard. We are not medical professionals and nothing on this website should be misconstrued to mean otherwise.