FREE Bodybuilding Program
Build Muscle, Lose Fat
And Get Super Strong!
Enter your first name and a valid email address
for free instant access to this awesome workout program.

Milos Sarcev Tribute Page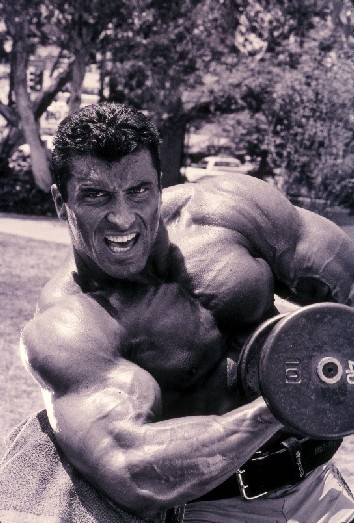 Milos Sarcev Picture
Miloš Šarcev was born in Becej Serbia on January 17, 1964 and is the owner of a well-known bodybuilding gym called Koloseum Gym which is in Fullerton, California. He is 5'11" tall and competes at around 240 lbs. He got married in 1996 to Professional fitness competitor Milamar Flores.
Milos is a very serious competitor and has entered many competitions over the last twenty years. He always gets a place in the top ten of any competition he enters it was just very unfortunate that he got an 11th place at the 1993 IFBB Mr. Olympia.
Milos Sarcev Workout
Milos is very specific about the type of training that he does in order to achieve the maximum amount of fiber stimulation as possible. He uses a system that combines three of the basic type of routines that many bodybuilders use but he does them all in one workout which is unusual.
These three types of training are firstly the basic compound exercises that are performed explosively and with a very heavy weight. He then changes quickly to another training system using a moderate weight and sets in the 8-12 repetition range. His last exercise that he does is a multi-exercise sets that is performed one exercise after another with as little rest in between sets as possible.
It certainly works for him and he has now become very popular all over the world. The fact that judges cannot afford to place him farther down on the rankings is because he has an ideal symmetry for bodybuilding. He has a narrow waist and good calves which is the basic requirement for any competitive bodybuilder.
Note: For information on volume training for natural bodybuilders checkout Muscle Express Training.

Disclaimer: This website is an educational service that provides general health information. The materials are provided "as is" and without warranties of any kind either express or implied. The website's content is not a substitute for direct, personal, professional medical care and diagnosis. None of the suggestions (including exercise, diet, products or services) mentioned should be performed or otherwise used without clearance from your physician or health care provider. The information contained within is not intended to provide specific health advice, or any other advice whatsoever, for any individual or company and should not be relied upon in that regard. We are not medical professionals and nothing on this website should be misconstrued to mean otherwise.