FREE Bodybuilding Program
Build Muscle, Lose Fat
And Get Super Strong!
Enter your first name and a valid email address
for free instant access to this awesome workout program.

Robby Robinson Tribute Page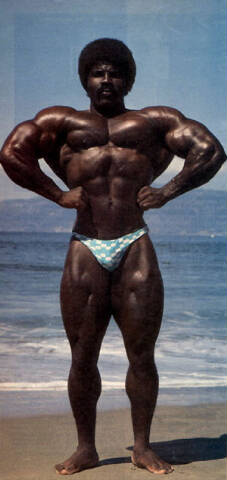 Robby Robinson Picture
Robby Robinson was born on May 24, 1946 in Damascus, Georgia, but raised in Tallahassee, Florida. After high school he went to Florida A&M University and competed in football as well as some track & field. When he was at University he noticed how quickly he responded to training with weights.
He started competing in bodybuilding shows at an early age and established his name as "The Black Prince". He got his Pro-card in 1975 and in his first year of competing he won the IFBB Mr. America, Mr World and Mr Universe titles. He was without a doubt the best bodybuilder in the world during that first year.
He did not get worse, the competition just got better and better but he never stopped competing and has earned the well-deserved Masters Olympia overall champion in 1994. That was the first year that the event was held where he won the 50+ division. He did the same again in 1997 and 2000.
Robby Robinson Workout
Today Robby is well over 65 and he still says that he is the best shape of his life. It is something that he has always said and he shares his badass workout routines as well as some very useful nutritional advice on with his "Built" DVD. Robby has also made a name for himself about being so outspoken about the corruption in sports and bodybuilding specifically.
However this does not diminish the enormous contribution that he has made to the increasing health consciousness which started in Venice beach where he has spent over 40 years. Below is a sample of the type of training that got Robby those gigantic arms with balance and separation.
Robbie says no rest between sets you need to push even if the weight you lift goes down, you are looking for failure all the time. From Zottman curls to barbell and Preacher Curl's his back sets and reps for biceps are 4 sets of 15-20, 5-10, 5-10, 5-10 reps.
For Triceps he says that you need to also not rest between sets and from Lying Triceps extension/Scullcrushers to close-grip bench-press he says do 4 sets of 15-20, 5-10, 5-10, 5-10 reps. When doing this type of training on your arms it should be done alone and not with any other body-part.
Robbie speaks with passion about the importance of nutrition and continues in his contribution to the awareness and knowledge of living longer. To be and physically capable as he is at 70 years old is a living example to us all.
Note: For information on volume training for natural bodybuilders checkout Muscle Express Training.

Disclaimer: This website is an educational service that provides general health information. The materials are provided "as is" and without warranties of any kind either express or implied. The website's content is not a substitute for direct, personal, professional medical care and diagnosis. None of the suggestions (including exercise, diet, products or services) mentioned should be performed or otherwise used without clearance from your physician or health care provider. The information contained within is not intended to provide specific health advice, or any other advice whatsoever, for any individual or company and should not be relied upon in that regard. We are not medical professionals and nothing on this website should be misconstrued to mean otherwise.