FREE Bodybuilding Program
Build Muscle, Lose Fat
And Get Super Strong!
Enter your first name and a valid email address
for free instant access to this awesome workout program.

Sharon Bruneau Tribute Page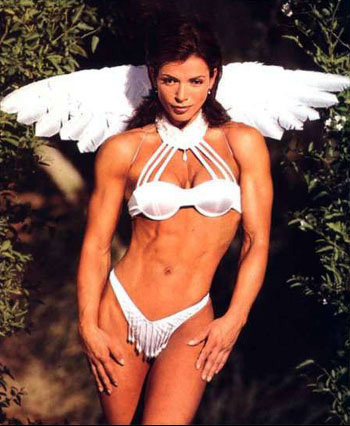 Sharon Bruneau Picture

Sharon Leigh Bruneau was born in the small mining town of Timmins, Ontario, Canada, and reared in the metropolis of Toronto. Bruneau's exotic looks center around her diverse French/Cherokee Indian ethnic heritage (known as Metis Indian). She stands 5'8", and weighs a svelte 128 pounds.

With her ethereal good looks and statuesque figure, Bruneau was a natural for the fashion scene throughout the late seventies and early eighties. As a successful professional model, she was the driving force behind such high profile ad campaigns, as Kawasaki Motors, Barely Legal Swimwear, and Simon Chang Couture. What's more, Bruneau was emerging as one of the few successful brunettes in a sea of blondes, a focus and ideal which has most recently shifted in the nineties. At the pinnacle of her modeling career, Bruneau contracted pneumonia. To rehabilitate herself and her pulmonary functions, she began weight training and studied nutrition to remain healthy. Her body quickly developed and she began entering fitness competitions. In just a few short years, Bruneau had risen to the top of her field, as one of the most popular and striking personalities on the scene. After winning the North American Fitness title, Bruneau was contracted internationally by Weider Health and Fitness and is currently one of three woman spokespersons with the organization. Whether appearing in advertisements promoting Weider nutritional products, or gracing the covers of either MUSCLE & FITNESS, ELLE, or SHAPE magazines her consistent popularity and presence affirms that customers recognize the Bruneau name, persona, and unmistakable figure. Editor-in-Chief of MUSCLE & FITNESS magazine, Tom Deters states, "If had three more Sharon Bruneauís gracing my covers and pulling numbers like she can , I could retire in the Cayman Islands within a year!" Weider Corporation's editorial Zeitgeist has only been enhanced by Bruneau's unique looks and reputation. In fact, both FLEX and MUSCLE & FITNESS have experienced incredible boosts in 'sell through' ratios when Bruneau adorns their covers. But the interest in Bruneau as a marketing vehicle isn't just relegated to Weider publications. Many other large magazine titles are beginning to recognize the Bruneau name and face, and are realizing that she is a powerful marketing tool. Not to mention that she is also becoming a hot film and television property. Sharonís most recent work can be seen in the soon to be released comedy "Hacks". Bruneau has always felt that achieving goals is a byproduct of hard work, dedication, passion and a belief in one's own abilities and self. Bruneau has these qualities in spades!




Disclaimer: This website is an educational service that provides general health information. The materials are provided "as is" and without warranties of any kind either express or implied. The website's content is not a substitute for direct, personal, professional medical care and diagnosis. None of the suggestions (including exercise, diet, products or services) mentioned should be performed or otherwise used without clearance from your physician or health care provider. The information contained within is not intended to provide specific health advice, or any other advice whatsoever, for any individual or company and should not be relied upon in that regard. We are not medical professionals and nothing on this website should be misconstrued to mean otherwise.