FREE Bodybuilding Program
Build Muscle, Lose Fat
And Get Super Strong!
Enter your first name and a valid email address
for free instant access to this awesome workout program.

Shawn Ray Tribute Page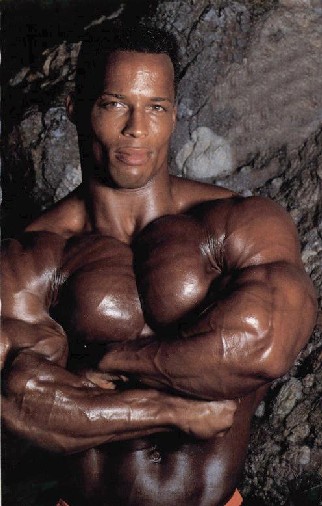 Shawn Ray Picture
Shawn Ray built one of the most perfectly put together physiques in bodybuilding history but he still never won Mr. Olympia which caused great concern to his fans and still does. Shawn was born September 9, 1965 in Placentia, California, U.S.
Shawn did not have an easy life and was born the youngest of eight children and his mother was half Puerto Rican and half African his father was African American. He currently lives in Yorba Linda, California in Newport Beach, California.
Stats:
5 foot 7 inches tall and 215 pounds.
Titles won:
1983 California Gold Cup
1984 Mr. Teenage Los Angeles AAU
1984 Teenage Mr. California
1985 Teenage Mr. Orange County
1985 Teenage National Championships
1985 Jr. World Championships
1987 Mr. California
1987 National Championships
1990 Pro Ironman Champion
1991 Arnold Classic
Shawn Ray Workout
Shawn uses a hard training routine, which is how he got the body that he has. It does not come easily and comes from intense workouts that are well planned and well balanced. Below is an example of a chest workout that Shawn would do on a regular basis at least twice a week.
Shawn is a firm believer in instinctive training and is convinced that the only way to get the best workout is to be able to always make the changes to his workout each time he goes to the gym. Below is a sample of a leg workout that he would do as well as a chest workout.
Unilateral Leg Extension 4 Sets of 20 Reps
Barbell Lunge 4 Sets of 12 Reps
Leg Press (or) Hack Squat 4 Sets of 15 Reps
Leg Extension 4 Sets of 12 Reps
When doing chest Shawn would always do something different depending on how strong or how weak he is feeling that day. Shawn uses all types of training to reach failure and go a step beyond the point of failure. Using anything from Pyramids to drop sets and working the rack.
For the Smith-Machine press, as with training any compound movement Shawn always insists on doing pyramid the weight up, choosing a higher weight for each set. He would use the dumbbell press to superset with and choose a challenging weight and stick with it for all three sets.
Smith-Machine 3 sets of 12, 10, 8
Flat-Bench Press 3 sets of 12, 10, 8
(compound set with)
DB Press 3 sets of 12, 10, 8
After doing these 12 sets Shawn would simply take an exercise bar and pump out reps until he reaches the point of failure. It takes guts and hard work to get to this type of training level, which is why Shawn is able to do so well so consistently in many professional bodybuilding competitions.
Note: For information on volume training for natural bodybuilders checkout Muscle Express Training.

Disclaimer: This website is an educational service that provides general health information. The materials are provided "as is" and without warranties of any kind either express or implied. The website's content is not a substitute for direct, personal, professional medical care and diagnosis. None of the suggestions (including exercise, diet, products or services) mentioned should be performed or otherwise used without clearance from your physician or health care provider. The information contained within is not intended to provide specific health advice, or any other advice whatsoever, for any individual or company and should not be relied upon in that regard. We are not medical professionals and nothing on this website should be misconstrued to mean otherwise.