FREE Bodybuilding Program
Build Muscle, Lose Fat
And Get Super Strong!
Enter your first name and a valid email address
for free instant access to this awesome workout program.

Sherry Goggin Tribute Page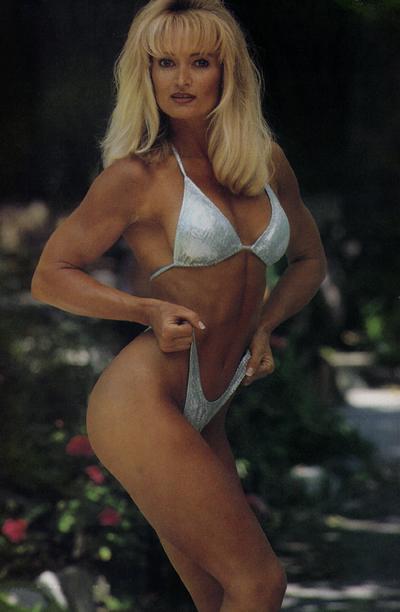 Sherry Goggin Picture
Biography
Sherry Goggin is no ordinary blond bombshell that has become a supermodel. She also has brains and has been gifted at using her talents since she was 8 years old. From playing the piano to doing athletics she loves to compete and shines best when the attention is on her.
But at University she also applied herself and with her God given talent of being beautiful as well as intelligent as she graduated from the University of Tennessee at Chattanooga, Tennessee with a B.S. Degree in Business Finance. She was born in Chattanooga, Tennessee.
As a previous Fitness America Champion Sherry is now a well-known face on the screen and in print as she now is a writer for Iron Man Magazine where she has a monthly column called "Sherry's Fitness Formula on Training and Nutrition Tips."
Sherry explains her training program as a 4 day split where she always does opposing muscles and usually combines them into pushing and pulling movements. She would train chest and triceps or back and biceps or legs and shoulders in the same workout.
She also does cardio with every workout as she explains that if you want to stay healthy and keep your body metabolizing at the rate that it should you need to do cardio at least three times a week. She now also runs a flourishing business creating ads for companies and doing the photos required for a campaign.
She is also the proud owner of a Gold's Gym in California where she trains at least 4 times a week. She continues to be an inspiration for many of her fans and will no doubt continue to use her talents to help others in their path to health longevity and fitness.

Disclaimer: This website is an educational service that provides general health information. The materials are provided "as is" and without warranties of any kind either express or implied. The website's content is not a substitute for direct, personal, professional medical care and diagnosis. None of the suggestions (including exercise, diet, products or services) mentioned should be performed or otherwise used without clearance from your physician or health care provider. The information contained within is not intended to provide specific health advice, or any other advice whatsoever, for any individual or company and should not be relied upon in that regard. We are not medical professionals and nothing on this website should be misconstrued to mean otherwise.