FREE Bodybuilding Program
Build Muscle, Lose Fat
And Get Super Strong!
Enter your first name and a valid email address
for free instant access to this awesome workout program.

Tazzie Colomb Tribute Page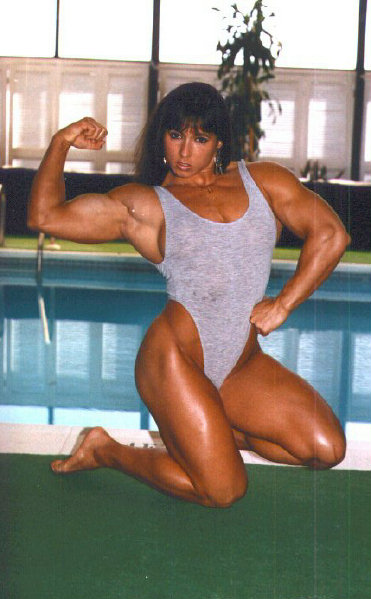 Tazzie Colomb Picture
Biography
Tazzie Colomb has been competing as a female bodybuilder for the last twenty years. She has now firmly established herself as a top professional bodybuilder who always places in the top ten of any competition she enters. Tazzie is 5ft 7in and usually comes on stage weighing around 198 lbs looking completely ripped to shreds.
She has an ability to get her body-fat extremely low, which is able to place here always in the top dozen of any bodybuilding lineup. Tazzie started her first bodybuilding contest at the 1993 IFBB Jan Tana Pro where she took 11th place in her first ever bodybuilding competition.
But Tazzie just seems to get a little better every year and continues to try and get in the top three professional bodybuilders. Currently her best result at the Ms Olympia was at the 2002 IFBB Masters Olympia where she took 3rd place. She was 6th in the 1999 IFBB Ms. Olympia lineup where she looked completely solid.
Tazzie lives in New Orleans, Louisiana, United States of America and has always shown her strength to be above average competing in strength competitions and mixed arm wrestling competitions where she always shows herself to be in the top three contenders.
A good example of this is her 3rd place at the 2002 IFBB GNC Show Of Strength but you can see here strength for yourself on Utube where she beats guys with twice here strength. Tazzie is still single and now that she is over 50 she still keeps her body in peak competition and we will no doubt see more of her.

Disclaimer: This website is an educational service that provides general health information. The materials are provided "as is" and without warranties of any kind either express or implied. The website's content is not a substitute for direct, personal, professional medical care and diagnosis. None of the suggestions (including exercise, diet, products or services) mentioned should be performed or otherwise used without clearance from your physician or health care provider. The information contained within is not intended to provide specific health advice, or any other advice whatsoever, for any individual or company and should not be relied upon in that regard. We are not medical professionals and nothing on this website should be misconstrued to mean otherwise.