FREE Bodybuilding Program
Build Muscle, Lose Fat
And Get Super Strong!
Enter your first name and a valid email address
for free instant access to this awesome workout program.

Tina Jo Orban Tribute Page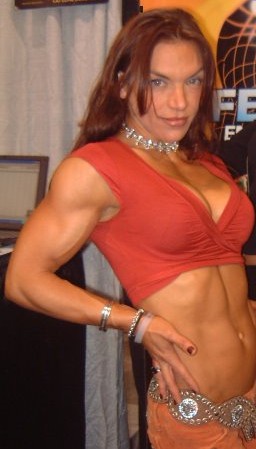 Tina Jo Orban Picture
Biography
Tina Jo Orban is a former Playboy model started off doing athletics at school because of the former President Ronald Reagans effort to organize sport in public schools. It was therefore at a very early age that Tina discovered her talent for anything athletic. At 5'5" and around 115 lbs with very little body-fat on her, she became a natural competitor for female bodybuilding. Growing up on the beaches of California she said that she has won countless bikini competitions in her day. She is still a committed vegetarian and swears by not eating meat you can keep healthy and fit forever.
She only enters natural competitions where they test for steroids and has competed very successfully at the in Miss Galaxy, and other Natural Shows like INBA. She won the Miss World All Natural title in 2005 and after promising to compete again she did not come back the next year to defend her title.
Tina is probably someone that you have seen on your magazine cover having done full cover swimsuit photos for magazines such as Musclemag, Ironman, Muscular Development, Planet Muscle, Muscle Elegance and American Curves. When asked to explain her training routine that she uses she said 'focus'.
She goes on to explain that the only way that you can get your body in tip top condition to compete at national level is to focus on your muscles when you train. The stretch and the contraction is a cause you need to focus on completely and not talk to a friend at the same time.
She does an hour of cardio a day and considers herself to be extremely fit. But she says it is always about what you eat and being a vegetarian makes it easier for her as there are basic mixes that she uses for her proteins that she gets from eggs and nuts and obviously vegetables.
She no longer competes as a bodybuilder but says that she will always be in good shape. She explains that the skinny gaunt looking model of ten years ago is hopefully a thing of the past and we will soon start to see top models that have a bit of meat on their bones. Something that we found rather amusing coming from a vegetarian.

Disclaimer: This website is an educational service that provides general health information. The materials are provided "as is" and without warranties of any kind either express or implied. The website's content is not a substitute for direct, personal, professional medical care and diagnosis. None of the suggestions (including exercise, diet, products or services) mentioned should be performed or otherwise used without clearance from your physician or health care provider. The information contained within is not intended to provide specific health advice, or any other advice whatsoever, for any individual or company and should not be relied upon in that regard. We are not medical professionals and nothing on this website should be misconstrued to mean otherwise.