FREE Bodybuilding Program
Build Muscle, Lose Fat
And Get Super Strong!
Enter your first name and a valid email address
for free instant access to this awesome workout program.

Tom Prince Tribute Page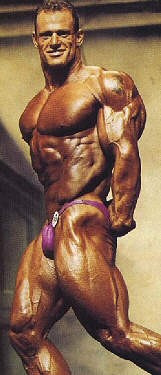 Tom Prince Picture
Tom Prince was born on October 26, 1969 in Virginia where he grew up and went to school. Tom found that he had a gift for training and picking up muscle and together with his naturally good proportions he soon started making him name for himself in the bodybuilding community.
Although it was not his first competition when he entered the national at the 1997 NPC National Championships he not only won his division but won the overall. This secured him his sort-after Pro-card and we were destined to see more of Tom on the professional stage.
Unfortunately things went drastically wrong when he was training for the 2003 Night Of Champions and his precious kidneys stopped functioning. Tom soon retired from professional bodybuilding and dedicated his life to building up his property management business that he started.
Tom Prince Workout
Training Split...
Sunday: Back, Traps
Monday: Thighs
Tuesday: Chest (morning) Calves (evening)
Wednesday: Biceps (morning) Hamstrings (evening)
Thursday: Shoulders
Friday: Triceps (morning) Calves (evening)
Saturday: Rest
How many sets?
For Thighs Chest and Back 12 sets. Shoulders was 12 to 15 sets. Hamstrings 9 sets. Biceps and Triceps 11 sets. Calves 6 sets, twice a week.
Tom explained about his training program that he used when he was competing. He said that the key to making your workouts count for you is to always make sure that you are taking in enough carbs. He said just like he does with his clients that he trains to compete that the sets and reps you do should be related to the amount of carbs that you are eating.
Tom says that it all fits together like a puzzle and that without watching exactly what you eat every second of the day you will never be your best at a bodybuilding show. Tom has gone from being a top class professional bodybuilder to a major contributor to dieting and eating for a bodybuilding show.
He has clients like Johnnie Jackson and Jerome Ferguson who both rave about the advice and guidance that they get from Tom. They explained that having so much energy even on a diet is something they have never experienced before.
Tom explains that it is all about calculating your input and your output correctly that gets you the best results. He says that you donít have to do two hours of cardio every day before a competition to reduce your fat. You just have to eat sensibly and know how to train correctly.
Note: For information on volume training for natural bodybuilders checkout Muscle Express Training.

Disclaimer: This website is an educational service that provides general health information. The materials are provided "as is" and without warranties of any kind either express or implied. The website's content is not a substitute for direct, personal, professional medical care and diagnosis. None of the suggestions (including exercise, diet, products or services) mentioned should be performed or otherwise used without clearance from your physician or health care provider. The information contained within is not intended to provide specific health advice, or any other advice whatsoever, for any individual or company and should not be relied upon in that regard. We are not medical professionals and nothing on this website should be misconstrued to mean otherwise.