FREE Bodybuilding Program
Build Muscle, Lose Fat
And Get Super Strong!
Enter your first name and a valid email address
for free instant access to this awesome workout program.

Troy Alves Tribute Page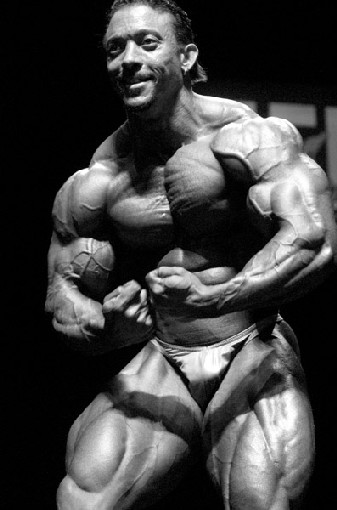 Troy Alves Picture
Troy Alves was born on September 26, 1966 in Arizona where he lives today in Peoria with his wife and his young daughter. Troy was destined to become a pro baseball player and played college baseball very successfully until he got himself injured.
Troy was always a natural athlete and saw that he was able to put on muscle quickly and together with his perfect genetics for bodybuilding it was only a matter of time before he became professional. He joined the United States Airforce and over the years has been featured on many to magazines.
He started competing in 1996 where he took 8th place at the NPC USA Championships. Much later in 2003 he placed 10th in the Arnold Classic and his first Mr.Olympia placed 15th in 2004. He currently owes a supplement store where and continues to do personal training.
With Troy's natural symmetry and balance he has always been in the top ten of any competitive bodybuilder on the circuit and should have better results that he shows to date. Troy stands 5'8" and weighs around 225 pounds for a contest and about 245 pounds in the off-season.
Troy Alves Workout
His training routine is changed regularly like any top professional bodybuilder but he sticks to the training of his body using the following split routine training twice a day.
Day 1 Quads, abs
Day 2 Shoulders, triceps, calves
Day 3 Hamstrings, glutes
Day 4 Chest, biceps
Day 5 Back, abs
Day 6 Hamstrings, glutes, calves
Day 7 Off
He does about 16 sets per body-part but as he says it could change to more volume if he is training for a competition. He would also include some cardio towards the last week or ten days before the show. Troy insists on correct form when training as he says an injury can mean the end of your career.
Note: For information on volume training for natural bodybuilders checkout Muscle Express Training.

Disclaimer: This website is an educational service that provides general health information. The materials are provided "as is" and without warranties of any kind either express or implied. The website's content is not a substitute for direct, personal, professional medical care and diagnosis. None of the suggestions (including exercise, diet, products or services) mentioned should be performed or otherwise used without clearance from your physician or health care provider. The information contained within is not intended to provide specific health advice, or any other advice whatsoever, for any individual or company and should not be relied upon in that regard. We are not medical professionals and nothing on this website should be misconstrued to mean otherwise.