FREE Bodybuilding Program
Build Muscle, Lose Fat
And Get Super Strong!
Enter your first name and a valid email address
for free instant access to this awesome workout program.

Wong Hong Tribute Page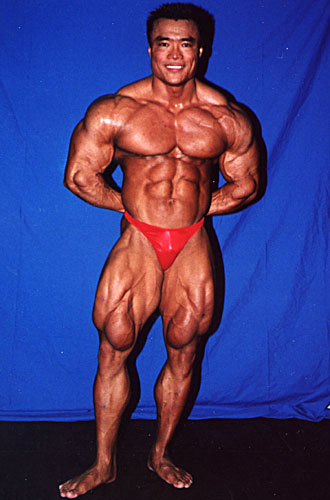 Wong Hong Picture
Wong Hong was born on 4th of April 1970 in Kuala Lumpur, Malaysia and is the youngest in a family of 10. He started pumping iron at 18 when in college and managed to put on 20 pounds of muscle in just 6 weeks. With this amzing start he quickly got addicted to training with weights.
Although he continued his training when he was at the Colorado State University in America he returned back to Asia to become the best bodybuilder in Asia before getting his pro-card. This is exactly what he did and he went on to win the IFBB Mr. Asia competition 4 years later and returned to the USA in 2000.
With a masterís degree in Human Nutrition but he has now returned back to Malaysia where he own and operates a gym of his own in Kuala Lumpur which he opened on 1st of September 2005. He also trains selected clients as a personal trainer.
Wong Hong Workout
Wong has defied the conventional thinking on leg training because of his massive legs which he has got by not doing a single barbell squat as he does not use barbells at all for legs. His secret is in the heavy volume that he does doing between 8 to 12 reps and around 35 sets and that is just for his quads.
He uses a system of training where he concentrates on using machines only. Using the standard leg presses and hack squats machines found in any gym which he says are excellent for building mass. He does leg extensions and Smith machine lunges for definition and cuts.
Wong explains the reason why he does not do regular squats because it hurts his lower back and he does not feel safe going down with a heavy weight. He explains that vertical leg press is the best to gain size on your legs because you are going against gravity and your back is protected.
Note: For information on volume training for natural bodybuilders checkout Muscle Express Training.

Disclaimer: This website is an educational service that provides general health information. The materials are provided "as is" and without warranties of any kind either express or implied. The website's content is not a substitute for direct, personal, professional medical care and diagnosis. None of the suggestions (including exercise, diet, products or services) mentioned should be performed or otherwise used without clearance from your physician or health care provider. The information contained within is not intended to provide specific health advice, or any other advice whatsoever, for any individual or company and should not be relied upon in that regard. We are not medical professionals and nothing on this website should be misconstrued to mean otherwise.